Young Devon writers and illustrators impress judges in expert-led masterclass competitions
Posted on 25 Apr 2022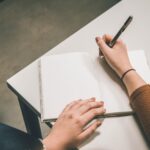 Ten talented young writers and illustrators have won publication, mentoring and prizes in the recent What if YOU Spoke? masterclass competitions from the Evolve programme at Libraries Unlimited.
What if YOU spoke? is a series of free online masterclasses in writing and illustration. Among the masterclass tutors are literary prize winners, published authors, award-winning illustrators, playwrights and poets, and some of today's most inspirational voices.
Competitions aimed at 15 – 25-year-olds living in Devon ran alongside the launch of the masterclasses and were judged by the creative experts. After completing the masterclass for their chosen genre (including poetry, journalism and comic book illustration), each entrant created and submitted their own piece of work for consideration.
The ten winners whose work has been selected for publication are: Carly Aphelion, Jo Cutler, Ella Moorhouse, Amelia Oxborrow, Emma Poulton, Rue Ronan, Filippo Rossi, Caitlin Smith, Samuel Vaughan, and Betsy Weymouth.
A further ten entrants have been selected as runners up for their remarkable entries, including Ella Moorhouse, Rue Ronan, Filippo Rossi, and Betsy Weymouth for submissions to additional categories, plus Sebastian Berry, Grace, Ella Greed, Issy Halpin, Emily Howarth, Chris Moore, Gareth Rodd and Charlotte Zimisides. 
Author, illustrator and poet Laura Dockrill, who led the masterclass on Finding Your Inner Voice, said, "The entries were quite extraordinary, I found the writing voices came over so strong with confidence and a real sense of root and style – which is exactly what these Masterclass's are all about, shining a spotlight on the artist, whoever they might be."
Find out more about the competition winners and runners up, and read their remarkable entries on the Evolve website: bit.ly/WIYS2022
The work of both the winners and runners up will be featured over two issues of Pen to Print's Write On magazine, available in April (issue 12) and June (issue 13) this year. The magazine has a readership of over 55,000 users from 178 countries. Printed magazines will be available from libraries so pick up a copy in your local library. The magazine is also available in a digital version at pentoprint.org/product-category/magazines/ 
Daniel Clark, Creative Director at Evolve said: "We were really blown away by the creativity and talent that was shown across all of the competitions. The masterclasses were designed to cover a wide range of skills, and to remove the barrier of cost for young people to hone their skills. It is exciting to be able to play a part in encouraging the next generation of Devon writers and artists to find their voices and gain recognition."  
Although the competitions have now closed, the masterclasses remain available online for anyone to watch and be inspired by. 
Whether people are interested in starting a novel or illustrating their own comic, finding out more about journalism or about different forms of poetry, or they just want to try something new, this is an invaluable opportunity to learn from experts in their fields, for free. 
Each pre-recorded online masterclass is 25 – 50 minutes long and split into manageable sections. Students can follow classes at their own pace and try as many as they'd like. The ten free masterclasses include:  
What if YOU Spoke? is led by Libraries Unlimited in partnership with Pen to Print, University of Exeter, Africa Writes and Literature Works as part of Exeter UNESCO City of Literature. 
All the masterclasses are still available to watch for free here.