Our Team
The Chief Executive and the Executive team are responsible for the day-to-day management of the organisation and its services.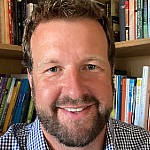 Alex Kittow
Chief Executive
Alex is Chief Executive of Libraries Unlimited. Previously, he has worked as Chief Executive of Bristol-based charity Southmead Development Trust where he played a pivotal role in increasing the traded income, securing and delivering a number of contracts and grant-funded projects. Through his leadership the charity was able to significantly increase its positive impact on beneficiaries, as well as growing its financial reserves and improving the governance structure. Alex has also worked for organisations such as Partner Aid International, based in East Africa, and for the Ministry of Defence.
In his role as Chief Executive, Alex is responsible for the day to day running of the organisation, ensuring Devon and Torbay's libraries are delivering life changing library services to the county's population. He is also responsible for ensuring a sustainable and vibrant future for the organisation and driving the charity's next phase of growth and development.
Alex is on the Board of trustees for a number of charities and organisations, including Locality, a national charity promoting the work of community anchor organisations across the UK.
Karen Best
Director of Finance and Operations
Karen is Director of Finance and Operations for Libraries Unlimited. She has over 20 years' experience of working in the private and public sectors in a wide range of finance roles, including extensive experience of delivering systems implementations, driving continuous improvement and team development. Most recently, Karen was Head of Financial Operations at the University of Exeter after relocating from the South East.
As a member of the executive team, Karen is responsible for the overall financial management, integrity and control of the organisation. Her team also support all areas of the organisation with operational and change activities from a HR, Finance and broader business perspective.
Karen is passionate about the power and pleasure of reading to enable individuals to realise their potential. Also, as a Chartered Accountant, she believes in the role of Finance and other support functions to enable the organisation to fulfil its ambition and vision.
Tabitha Witherick
Head of Library Service and Customer Experience
Tabitha has been with Libraries Unlimited since 2017 having worked in libraries across the South West for 20 years. As a chartered librarian she brings a breadth of knowledge about library innovation and represents Libraries Unlimited across networks at a regional, national, and international level. Tabitha has an excellent track record of delivering library development projects and programmes, combining a passion for digital, creativity and experimentation.
As a member of the Executive team, Tabitha is responsible for delivering outstanding customer experience, driving towards a future library service that is embedded within its locality, for the community, and meeting local needs. Her team have operational and strategic responsibility for library services across Devon and Torbay, Evolve, our Arts Council funded cultural programme, and Business & IP Centres, our partnership with the British Library.
Her pronouns are she/her and she tweets at @tabisw
Steve Turner
Head of Commercial and Innovation
Steve is Head of Commercial & Innovation for Libraries Unlimited. He has over 20 years' experience of working in the public and private sectors in a wide range of areas including property and programme management, business support and development, and raising funds from local, national and EU grant schemes.
Most recently Steve was Economy & Enterprise Team Manager at Devon County Council and prior to this he worked at a senior level in a number of local authorities and the private sector in Nottinghamshire.
As a member of the executive team Steve is responsible for the overall management of property, marketing and communications, new income generation and fundraising activities. He also works with a small, dedicated team to develop new innovative services which currently include Fab Lab Devon and the Business & IP Centre.
Steve is a big believer in the role that libraries can play in supporting the economic and social well-being of local communities and is keen to use his experience to further develop this role.