World Book Day celebrations in Devon
Posted on 02 Mar 2017
Blog by Kate Mackenzie, Service Development Manager
There are many occasions in the calendar that we celebrate in libraries – Roald Dahl Day, Harry Potter Night, National Poetry Day, and Shakespeare Week to name a few, but none that get us all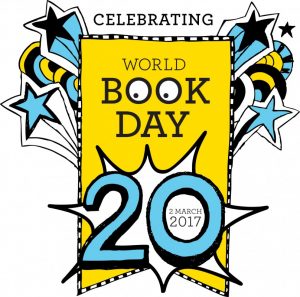 quite as excited as World Book Day.
Each year, on the first Thursday in March, people across the world come together to celebrate authors, illustrators, books and reading. Over 100 countries take part in the celebrations, and for us at Libraries Unlimited it's a vital opportunity to promote and encourage a love of reading and to inspire people to explore different books and get to know what services their local library has on offer.
In the UK, the main focus of World Book Day is to encourage children to celebrate their favourite stories and book characters.  Over the last few years it has become an important annual event in the school calendar and for that reason, many libraries across Devon have teamed up with local schools and pre-schools to coordinate activity. For example, libraries such as Colyton, Exeter, Chagford, Bideford and Salcombe will all be hosting school or nursery visits to introduce children to the wonderful world of stories and the wide range of resources they can find in the library.
In North Devon, 12 local schools will take part in an inter-school quiz hosted at Barnstaple Library. This has now become an annual event and has proved to be a great way to bring all the local schools together to have fun and get to know their peers over a shared love of books and reading.
Chudleigh and Ilfracombe libraries are both hosting library visits from local Cub Scout groups and Buckfastleigh Library is encouraging children to come to the library dressed as their favourite book character, whilst Appledore Library is hosting an event for home educated families.
On World Book Day, every child in the country is entitled to receive a £1 book voucher which they can exchange in bookshops for one of the specially published World Book Day books, or get £1 off any book or audio book. Children of school age will receive their voucher through school, but children under five or home-educated children will need to collect their voucher from the library.  We have lots of events going on for under 5s too, including specially themed Bounce and Rhyme sessions at Tiverton, Ilfracombe, Ivybridge and Sidmouth libraries; stories and crafts at Bideford and Okehampton, and a special Fairtrade tea party at St Thomas Library.
In addition to all the exciting stuff going on for children, at Exeter Library there will be a Bibliotherapy Day for adults, offering a 'personal shopper' type experience to provide customers with personalised reading recommendations based on the books they have previously enjoyed reading.
Amongst all of this, Exeter Library will also be hosting a visit from Rob Wilson MP, the Parliamentary Under Secretary of State for Civil Society. Mr Wilson will receive a tour of Exeter Library, the Business and Intellectual Property Centre and Fab Lab and will meet with some key members of the team to hear about the organisation's journey over the past year.
Public libraries have a huge part to play in encouraging children to develop a love of reading, as well as providing information and support to people at all stages of their lives and providing a free, safe and central community hub. So, whilst World Book Day is always a busy one for all of us at Libraries Unlimited, there's no doubt that we will all take time at the end of the day, to pick up our latest book and read at least a few pages, before calling it a day and starting to think about activity for World Book Day 2018.