Spread a little joy this January with the return of the A-Z of Wellbeing
Posted on 05 Jan 2022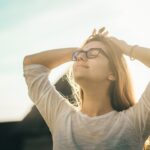 Beat the January blues this year with some help from Libraries Unlimited.
The charity that runs 54 libraries across Devon and Torbay will be sharing uplifting and informative content on social media throughout January and February to get people thinking about their wellbeing.
They will again be choosing a word for each letter of the alphabet – from Arts Award to Gardening, Knitting to Mindfulness, Tech-Free to Walking – and sharing stories, activities, and projects for each word.
The A-Z of Wellbeing is a collaborative project across Libraries Unlimited and beyond, with contributions from library staff and local artists, organisations and businesses including theatre-maker and children's author Tessa Bide and Exeter's popular café and cake company The Exploding Bakery.
The project was first launched in January 2021 and proved popular online, getting people of all ages engaged with wellness and sharing their own stories.
Colin Bray, Service Development Manager for Libraries Unlimited said: "January can be a difficult time for many people, with less hours of daylight and the aftermath of the holiday season. The A-Z of Wellbeing is a wonderful opportunity to reflect on all aspects of our wellbeing and find ways to feel good that set us up well for the year ahead"
"We were delighted to see so many people engaging with the project last year and hope that we can spread the message even further in 2022. Everyone is welcome to join in the conversation."
Libraries across Devon and Torbay will also be handing out a limited number of inspiring postcards to customers, encouraging them to send on to loved ones.
Zoe Buttling, Programme Co-ordinator for Libraries Evolve said: "Last year we put postcards in the Choose and Collect bags at random so they were a nice little surprise. We have 2 colour and 2 black and white designs for people to send on and spread kind messages. They really gave people a boost last year – we loved seeing posts on social media when they'd been sent onto to loved ones! We hope they bring a smile to some of our customers this year."
Last year the special A-Z of Wellbeing postcards slipped in with Choose and Collect bags of books by library staff helped 54-year-old Paul Quinn through lockdown.
Paul, from Ilfracombe, runs a support group for mental health issues with over 140 members and had been struggling with his own mental wellbeing during lockdown.
"I was really touched by the postcard in the bag with the books," said Paul. "It's a little thing to some, but because it's not so easy to see people all the time that effects on my mental health and the statement 'You Matter Every Day' on the card meant so much that day."
To take part, keep an eye on the Libraries Unlimited social media channels throughout January and February. The words will become available to view one by one on the Libraries Evolve website as they are revealed over the weeks: librariesevolve.org.uk/projects/the-a-z-of-wellbeing
Pop into your local library to pick up free postcards to send to friends and loved ones.
The A-Z of Wellbeing project is just one of the activities in the wide Libraries Unlimited cultural offering.  Evolve is an imaginative programme of events and artworks within Devon's libraries, delivered by Libraries Unlimited, in partnership with artists and communities and funded by Arts Council England and Exeter City Council. For further details about Evolve and future events, please visit librariesevolve.org.uk