Spotlight on Barnstaple Library
Posted on 03 Nov 2016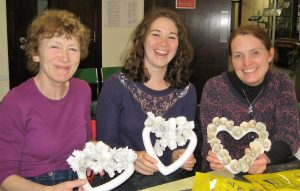 Barnstaple Library is a vibrant and dynamic place, with ample space to host a wide variety of events for all members of the community.
For this year's Active Life Active Mind campaign, the library will welcome people to events such as seasonal craft, flower arranging, Facebook workshops, yoga & mindfulness and creative dance sessions. There will also be a local history walk and an introduction to Ancestry, as well as a weekly Walking for Health session.
On Friday 18th November, Barnstaple Library will host a Healthy Living Day from 10am to 2pm. This is a drop-in session, where customers can have their blood pressure and other health-related measurements taken to help in the prevention and treatment of any long-term health conditions. A specialist will also be on hand to discuss achievable lifestyle changes to improve general health.
The library is also home to the newly formed North Devon Literacy Hub who meet at the library once a month to offer support and friendship to those who have difficulty with reading, writing and spelling.
All regular groups are very sociable, welcoming and great fun, and include singing, knitting, colouring, discussing audio books, playing scrabble, getting computer assistance, writing and memory groups.
The library also very proudly supports Pathfield School, a forward-looking school for pupils with special needs, by providing a space in the foyer for their weekly café. The students not only run the café but also make all of the delicious snacks with help from their wonderful staff.