South Molton residents first in the south west to experience new 'Magic Table' during Dementia Awareness Week
Posted on 03 May 2019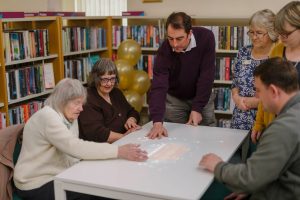 Residents of South Molton are invited to enjoy a little magic this Dementia Awareness Week, as South Molton Library hosts a celebratory event to launch its new Magic Table.
Thanks to a partnership between the library, the South Molton Dementia Alliance and South Molton Rotary Club and funding support from Home Instead Senior Care, The Sanders Trust and HfT Charities, South Molton Library is the first library in the South West to be equipped with a Magic Table.
The Magic Table, also known as a Tovertafel, is a playful and interactive installation using lights and games projected onto a table to get people moving and provide fun and happy experiences, specifically designed for two groups living with cognitive challenges: people living with mid-to-late stage dementia and adults living with learning disabilities. The Magic Table encourages instinctive participation, stimulating physical, cognitive and social activity.
There are around 500 tables currently in the UK, with the majority being used in care homes, accessible only by residences. South Molton Library is unique in the fact that it's the first library in the South West to feature a Magic Table. Its accessibility and location opens up opportunities for a greater number of people to utilise and benefit from this exciting new technology.
The party will be at South Molton Library in the Armory Centre on 22nd May between 1pm and 3pm and is open to anyone, giving people an exclusive chance to experience the Magic Table and its interactive and playful games.
The installation was enabled thanks to a generous investment made by the Rotary Club of South Molton to celebrate its 50th anniversary. Other partners who made the installation a reality include: South Molton Dementia Alliance, who researched local needs and identified that people wanted different activities; Home Instead Senior Care for a donation and advice and The Sanders Trust and HfT Charities who helped fund the infrastructure and accessories.
Jane Petch, Library Supervisor at South Molton Library, one of 54 libraries in Devon run by charity Libraries Unlimited said: "We're so fortunate in South Molton to be part of such an innovative and forward-thinking community and part of a charity that seeks to promote wellbeing and information in a trusted and welcoming environment. The Magic Table fits in so well with all the activities we do here and is already spreading its magic to all ages. We look forward to welcoming new and existing users to the library to experience the Magic Table and demonstrating its range of features and benefits."
Adam Crispin, Director of Home Instead Senior Care North Devon and Exmoor and chair of South Molton Dementia Alliance, said: "Our research clearly showed that people with dementia want a range of activities, and this equipment meets that need."
Lyn Winter, President of South Molton Rotary Club, added: "These activities offer something very special for people in North Devon. While it is primarily for people with dementia, early feedback shows that people of all ages, with various disabilities, or none, are all enjoying the equipment."
South Molton Library is one of 54 libraries run by the charity Libraries Unlimited. Libraries Unlimited is committed to supporting the positive health and wellbeing of individuals through access to a range of different services, resources and welcomes the kind purchase of the Magic Table.
The Magic Table will be available to the public during normal library opening hours, and also by pre-booked appointments outside of those hours.
South Molton Library will be running a dementia friendly walk and Dementia Friends session as part of Dementia Action Week.
For more details about what's happening at Devon Libraries, visit devonlibraries.org.uk or search /Devon.Libraries on Facebook or @DevonLibraries on Twitter.