Roald Dahl hand-written letter up for auction
Posted on 21 May 2021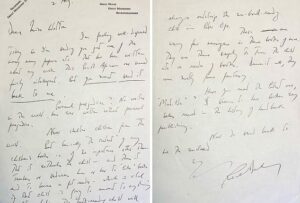 Devon library staff member inspired by his words in encouraging children to love books
A hand-written letter from the author Roald Dahl which encouraged a Devon library staff member in her career of encouraging children to love books, is going under the hammer.
Christine Phillips, who is Customer Service Assistant at Moretonhampstead Library, wrote to Dahl in 1989 after stumbling across his address in the back of a library book.
She was a 20 year old student doing a degree in literature and linguistics at Portsmouth Polytechnic at the time, hoping for a career in libraries.
Christine says: "I never thought I'd get a response but having always loved his work I decided on a whim to write to him. I was curious about his views on subversive elements such as violence in his books and their effect on children. I never dreamed he would respond.
"I was amazed when I got a lengthy reply back – two sides of A4, hand-written and very chatty. He also lent me a dissertation he'd written about the importance of encouraging a love of reading in children and mentioning Matilda which had just been published and is now a film and a musical and world famous. He was famous for writing in his garden shed, so I imagine that's where he wrote the letter."
The letter is being auctioned by specialists Hansons Auctioneers next month with a guide price of between £500 – £800.
Dahl wrote back to Christine in his inimitable style saying: "Never shelter children from the world… the 'content' of any children's book is of no importance other than that it enthralls the child – and thus it teaches or seduces him or her to 'like' books and to become a fit reader – which is vital if that child is going to amount to anything in later life. The book-reading child will always outstrip the non-book-reading child in later life. There are very few messages in these books of mine. They are there simply to turn the child into a reader of books. Damn it all, they are mostly pure fantasy. Have you read the latest one, Matilda? It seems to have broken every sales record in the history of hardback publishing."
Christine says although she has treasured the letter for over 30 years, she now feels it is time for it to go to the safekeeping of a specialist collector to benefit and inspire others.
"With the happy-go-lucky optimism of youth, I don't think I fully appreciated my good fortune," said Christine. "And the fact that I wrote to him after stumbling across his address listed in the back of an old library book – it's amazing what you can find in libraries!
"His words and ethos still echo so strongly with me now in my role in libraries. One of our central aims at Libraries Unlimited is to inspire a love and a familiarity of books and reading in children. At Moretonhampstead Library it's fantastic seeing so many children absorbed in books and developing a love of reading, from babies fascinated by board books to youngsters enjoying a story read aloud and older readers discovering Dahl's wonderful tales and losing themselves in his fantasy worlds. I think Roald Dahl would approve."
The letter is being auctioned on 15th June at a specialist library auction at Bishton Hall in Staffordshire.