Popular Teignmouth eatery takes over the running of Newton Abbot's library café
Posted on 12 Sep 2018
The café at Newton Abbot Library has been taken over by a well-known fine dining restaurant in nearby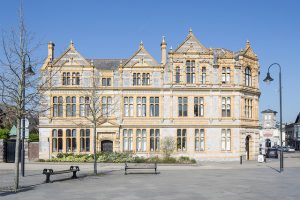 Teignmouth, and reopened its doors for the first time on Friday 7th September.
The Owl and the Pussycat Restaurant has been a top dining destination in Teignmouth for 11 years and will now run The Coffee House at the historic Edward Passmore Centre building, which is home to Newton Abbot Library.
The Coffee House café will be open six days a week and will maintain the restaurant's signature commitment to local and traceable ingredients, and animal welfare-friendly meat, dairy and eggs.
The Owl and the Pussycat chef and proprietor Sandra Bouzayen said: "I'm a passionate cake maker and running this café is going to give me plenty of scope to enjoy making my favourites. We will also be offering a full lunch menu as well as excellent coffee and a wide range of teas and other drinks. Customers can rest assured that anything they eat will be high-quality, fresh and local wherever possible. Our standards of high welfare delicious local produce are what our customers have come to expect of us.
She continued: "We're really excited to get to know our new customers at the library. It's a fantastic opportunity for us to be based within the vibrant and busy library at the heart of the community within Newton Abbot. We're also pleased that there will be familiar faces within the café as we have been able to employ two of the former members of staff, who have worked within the library café for several years and know the customers well."
Mokhless Bouzayen, the other proprietor, will take care of front of house and may entertain customer with his animated stories of having served the Japanese, French and Tunisian Presidents.
Steve Turner, Head of Commercial and Innovation at Libraries Unlimited, the charity responsible for running Devon Libraries, said: "Our recent customer survey showed us quite clearly that our library users really value having places where they can relax and have a drink or a snack within our libraries. We run our own café at Cullompton Library, have had a very successful partnership with the Real Food Café in Exeter Library and we have pop-up cafes at several libraries across Devon and Torbay. We're looking forward to an equally successful relationship with The Coffee House and hope our library users enjoy the new menu. The Owl and the Pussycat has a superb reputation and we think their presence will be a big draw to the library."
The Café opening hours will be 9am to 4pm Monday to Saturday.