One of Devon's librarians has gone missing
Posted on 16 Apr 2019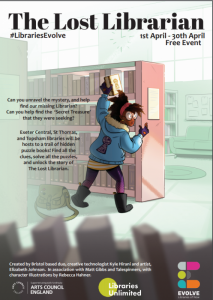 This Easter, Libraries Unlimited invites young people to help in the search for a missing Devon librarian.
Exeter, St Thomas and Topsham libraries are looking for people aged 12 and over (or younger, if accompanied by an adult) to help solve the mystery of The Lost Librarian, as part of a fun and interactive puzzle trail installed by Libraries Unlimited, thanks to funding from Arts Council England.
Molly Allison, a (fictional) member of the Exeter staff team was researching the secrets of the Exeter Witches, when she started to receive threats and her findings started to go missing. She's since disappeared and hidden her findings within the three libraries in the Exeter area to try and put the thief off the trail, she now desperately needs your help to piece the information together and uncover the 'secret treasure'.
Molly's beautiful puzzle books containing her research have been secreted amongst the bookshelves in the libraries, each one unlocking a new clue to help piece together the puzzle.
Molly has provided some useful instructions to help problem solving teens in their quest to find the Lost Librarian. Those taking part in the puzzle trail can crack the riddles and cryptic clues by using the heat of their hand, navigating mazes with the tip of their finger and take part in digital games within the puzzle books to reveal vital clues to move on to the next.
The Lost Librarian is part of Libraries Unlimited's Evolve programme supported by Arts Council England.The puzzle has been created by Bristol based duo, creative technologist Kyle Hirani ('How to Build a Robot', 'The Book Hive') and artist, Elizabeth Johnson ('Silk Stockings and Social ladders', 'The Book Hive'.) in association with Talespinners and in consultation with local communities.  The interactive, digital trail runs to 23rd April 2019.
The digital puzzle trail is free to take part, and the first 500 people to complete the puzzle will receive a free Lost Librarian bookmark. This is an adventure not to be missed.
Enjoyed The Lost Librarian? Libraries across Devon are showcasing and exhibiting a number of projects and installations for people of all ages to enjoy. Exeter Library is also home to The Listening Booth, a new space to listen to stories and sounds. Combining cutting edge speaker technology and co-design by pupils at WESC foundation (specialist centre for Visual Impairment) enter a fully accessible audio only space where to get lost in a new audio pieces every month.
Barnstaple Library is currently exhibiting an art installation that has been designed using inspiration from some of the major transformational events that have taken place in Barnstaple. 'A meeting Point', by Historian Oskar Schortz and inventor and technologist Marcus Comaschi is a new interactive 'tome stone' developed through workshops with the North Devon local studies collection. Inspired by Barnstaple's historic tome stone, the place where people would hang notes of their paid debts. This unique and remarkable artwork sees interactive lights which pulse and ascend as they respond to visitor's movements.
Bideford Library proudly presents 'Ferny Combes' – a new collection of interactive dioramas (three-dimensional exhibit) inspired by the library's rare books collection; The Chope Collection. A unique and tactile journey created by artist Clare Petherick and technologist Jay Kerry. The art piece showcases new innovations through magically intricate carved artworks. Visitors are invited to take out a book and marvel as the environment morphs and changes around you, drawing you into these stunning artworks as hidden technology brings these books alive.
To find out more about Libraries Unlimited visit librariesunlimited.org.uk/projects/evolve