Library Lates at Exeter Library – a brand new after-hour cultural event for Exeter
Posted on 16 Jan 2020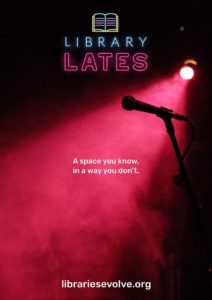 Get special after-hours access to Exeter Library on Friday 7th February, 6.30-10pm, tickets £5, over 18s only, for an evening of music, innovative interactive artworks, storytelling, cinema, games, silent disco, hidden spaces library tour, food & drink and much more…
Through its new Arts Council England funded initiative 'Evolve', Devon based charity Libraries Unlimited is hosting their very first Library Lates – a new season of specially curated, one-off late night events, live and from Exeter library.
With the theme 'Retelling Old Tales', this first February event sees artists, technologists, musicians, DJ's, game-makers and storytellers transform the spaces between the shelves.
The evening brings together live music, interactive installations, games, storytelling, Discovery Screen Cinema, silent disco, hidden spaces library tour, the Oddfellows Library bar, food from the Owl and the Pussycat plus design your own dragon colouring booth.
Daniel Clark, Creative Director at Libraries Unlimited said "We're looking forward to opening our libraries after-hours and giving special access to this amazing space to audiences.  Libraries have so much to offer communities and we wanted to create an exciting event that offers an alternative evening out in Exeter City Centre."
Daniel continued "Library Lates form part of a Lates programme offered across the year in partnership with RAMM.  Events will alternate between our venues and we are working together to bring a diverse range of artists, music, activities to Exeter. I'm looking forward to seeing how audiences respond as the season unfolds."
'Retelling Old Tales' Library Lates will include:
Live Music
Diamond Family Archive (UK)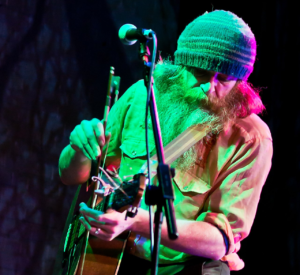 The Diamond Family Archive are a unique English lo-fi, psych-rock, multi-instrumentalist roving ensemble from The South Hams in Devon, based around the guitar playing and song writing of Laurence Collyer.
Live, The Diamond Family Archive craft a mesmeric live-show from drums, acoustic guitars, lots of FX pedals, keyboards set to drone, tape delay, loops and bellows, bows, harmonicas, cosmic harps, toys and broken cymbals, all coming together to create music which holds echoes of post-rock, traditional folk, spiritual soul music, psychedelic rock and lo-fi.
Foot-stomping, finger-picking, hollering vs pin-drop hush – fragile, lazy grace.
Sadie Horler (UK)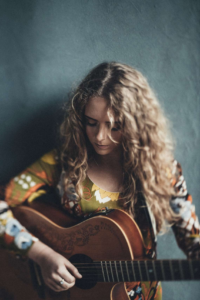 With her intricate guitar picking and effortless and emotive vocals, Exeter born Sadie Horler performs with warmth and authenticity, captivating her audience with her engaging but unaffected stage presence.
Her heartfelt lyrics are inspired by events and people around her with every song telling a compelling story you do not want to miss.
Storytelling
Artemis storytelling presents The Wounded King – Fragments of Arthur for Our Times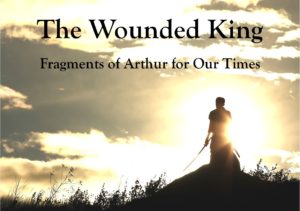 Three storytellers, three Arthurian tales. The stories connect, but also stand alone, so do drop in or stay for the whole thing!
Come and settle down in the warm comfort Children's library for a decidedly adult storytelling session.
Artemis Storytelling presents storytellers Katy Cawkwell, Lisa Schnediau and Ronnie Conboy as they reimagine three ancient Arthurian tales through three unique viewpoints.
The Lost Librarian
Join an exciting journey through Exeter Libraries shelves using some of the smartest and most exciting new tech, storytelling and mind-scratching puzzles.
The Lost Librarian is a brand new experiential mechanical story adventure that takes place via our library bookshelves. Using a combination of hands on technology and clues hidden in books, you are invited to uncover the story of the UK's last witches and help find one of the country's most important lost books.
Created by artist team Lizzie Johnson and Kyle Hirani (Rusty Squid), in collaboration with TaleSpinners, The Lost Librarian first appeared in Spring 2019 across our Exeter, St Thomas and Topsham libraries and will now refill the shelves for this special one-off evening event.
Games
Join us in the lobby to sample some of Exeter Libraries extensive games collection. Our in-house library games maestro will be on hand to help you navigate the collection. Grab a drink and play away!
Featured game: CircleTales
In honour of the theme 'retelling old tales' we are excited to be joined by the CircleTales team for guided gameplay sessions
CircleTales is an exciting new tabletop storytelling game, designed here in Exeter, that merges social interaction, collaborative storytelling, and ecological design–played on a bamboo board! Insightful questions and word prompts pulled by the roll of a dice guide players on a wild and entertaining storytelling adventure. Playing time 35+ minutes, 2-5 players.
Discovery Screens cinema
Grab a drink from the bar and enjoy some of the best new short film-making throughout the night from Oska Bright Film Festival, Peccadillo shorts and Ars Electronica animations.
The Library DJ's Silent Disco
Welcome to a new library experience. Adorn your headphones and dance to songs inspired by our theme from our in-house library DJ's. Expect an eclectic mix of old, new and downright unusual tunes.
DJ Norman Fonts (rev.), aka Jez Winship has been broadcasting on Phonic FM for a good few years now. He currently puts together (with his trusty co-host) a library-based show called Up from the Stacks, playing nuggets mined from the shelves, above and below ground. He takes delight in colliding wildly divergent styles in ways which somehow, to his surprise as much as yours, fit together. Expect nothing and all will be delivered unto you.
Made from spare parts in the laboratory of 80s hardcore punk, Colin The Librarian is ready to share some of his favourite beat music made for and by the kids. In the library. Especially the library.
FabLab
Have you visited our FabLab which is part of a global network?  Do you know what our FabLab is and what it offers?  Come through the door and see demonstrations of our kit in action.  See our laser-cutter in action and see how to design a keyring using software that will both cut and engrave by laser!  Our FabLab is the only digital makerspace of its kind in Exeter – come in and see what we get up to!
Hidden spaces tour
During the evening, we are pleased to be able to offer an exclusive tour of areas of the library that the public do not usually have access to, including the Exeter Stack and the Cage – where we keep our special collections. You will be given time to browse the stack and we will also have a selection of old and interesting books from our special collections available for you to view.
As there are limited spaces for these sessions, it is advised that you book onto them in advance. There are 3 sessions available, each taking 45 minutes. They will be at 7pm, 8pm and 9pm. If you would like to attend one of these sessions, please email jo.lawrence@librariesunlimited.org.uk, stating which time you would like to attend.
Plus!
After hours Intoxicating and clean 'library' living beverages at Oddfellows Library Bar
Delicious food throughout the night from the Owl and The Pussycat
Design your own Dragon colouring booth
Working in partnership with RAMM, Libraries Unlimited will be hosting a regular programme of after hour events with dates alternating between the two venues across the year.
"It's exciting to be part of new Library Lates and invite guests into the library after-hours.  There is much more to the library, so it is great to be giving people access to the hidden areas and for people to find out more about what we offer.  There's a great line-up so I'm looking forward to the library coming alive at night for this special event!" said Karen Huxtable, Senior Supervisor – Development at Exeter Library.
Exeter Library is one of 50 libraries in Devon run by charity Libraries Unlimited, who are also responsible for the running of Torbay's 4 libraries and the mobile library service on behalf of Devon County Council.
Tickets for Library Lates are available in advance online at librariesevolve.org.uk/events/library-lates