Launch pad for small businesses in Newton Abbot
Posted on 23 Nov 2021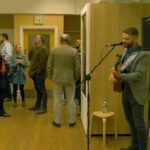 Libraries Unlimited and Devon County Council open Work:Space hub.
A new space which will help small businesses, start-ups and entrepreneurs move to the next level has been launched in Devon thanks to Libraries Unlimited and Devon County Council.
The affordable, state-of-the-art Work:Space, work hub office space, is situated in the centre of Newton Abbot.
The town has been shown in a recent study to have a shortage of suitable facilities.
Local small business owners and start-ups joined Devon County Councillors and Newton Abbott Town Councillors for the official launch event on Monday 22nd November, with live music from local musician Ollie Stephens. A separate launch event will be held for Teignmouth Work:Space on Tuesday 7th December.
Carrie Atkinson, Libraries Unlimited's Premises Manager, said: "It was clear from the buzz at our launch event that these Work:Spaces will be a real asset. They'll bring new business into the town centres of Teignmouth and Newton Abbot, and we hope they will be the launch pad for many successful enterprises. Businesses which set up out of redundancy and opportunity during the pandemic are now moving out of their spare bedrooms and into proper office premises, and these spaces really fit that bill."
There are 13 other Devon Work Hubs, facilitated by Devon County Council. The Council recently carried out an independent study into the availability of affordable and flexible office space in key towns across Devon. It was found that Teignmouth, Newton Abbot, Bideford, Seaton, Kingsbridge and South Molton were in the most need. The report focused on areas with a higher number of workers and micro businesses from the creative, digital, social media, ICT, arts and professional sectors.
Devon County Council secured funding for the projects from the Government's Getting Building Fund which is administered through the Heart of the South West Local Enterprise Partnership to create spaces to meet the demand and help towns recover from the economic impact from Covid.
Libraries Unlimited identified their two library buildings in Teignmouth and Newton Abbot as having rooms to develop after previous tenants moved out. The charity secured £142,000 from Devon County Council and contributed £47,000 of its own money for the project.
The Newton Abbot Work:Space is located on the top floor of the town centre Passmore Edwards Centre where the town's library is situated along with a café, railway studies centre, meeting rooms and adult learning centre. It features a five room workspace with 22 desks for rental and 195sqm of rentable space, separate swipe card access, kitchenette, toilets, showers and bike storage. The space has wheelchair access and an accessible toilet.
The Teignmouth Work:Space will be located on the ground and lower ground floors of the town's Library and is within walking distance of local amenities, including the train station. It also has five rooms, with 12 desks to rent, separate swipe card access, toilets and showers, bike storage and wheelchair accessibility.
Councillor Rufus Gilbert, Devon County Council Cabinet Member for Economy and Skills, said: "Councillor Rufus Gilbert, Devon County Council Cabinet Member for Economy and Skills, said: "I'm delighted these new work hubs have joined our expanding network. Around a fifth of Devon's workers work from home and these new spaces are going to give young entrepreneurs, freelancers and home-based businesses in Newton Abbot and Teignmouth an office when they need it; it also provides real choice over how and when they work."
"Our successful network of work hubs is an ideal venue for start-ups. It helps their businesses to grow before they are ready to make the next step and move to larger premises. They also encourage local businesses to collaborate which can lead to new opportunities."
Work:Space customers will benefit from being able to use the Business & Intellectual Property Centre (BIPC) by opting to become a Libraries Unlimited member, which offers access to a range of business databases, seminars and workshops. Many BIPC resources are available online or remotely, with in person support and events at centres based in Exeter, Barnstaple and Paignton.
Anyone wishing to find out more about these spaces, or to register an interest in booking space should get in touch by emailing roomhire@librariesunlimited.org.uk