Kingsteignton Library to undergo exciting refurbishment to create a welcoming community space
Posted on 29 Jan 2020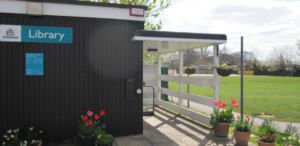 Kingsteignton Library will undergo an exciting renovation thanks to funding from Devon County Council.
The library, run by Devon-based charity Libraries Unlimited, will be closing its doors from Wednesday 26th February for four weeks to allow for refurbishment.
Library customers will be welcomed back to the library on Monday 30th March, when they will be able to enjoy the light, spacious and welcoming new library.
The internal library space will be reconfigured to create a more open, versatile space including a new work room in the foyer, which will give library staff much needed work space.
New shelving and furniture will help to modernise and lift the library and there will be new carpets and upgraded lighting throughout.
The Friends of Kingsteignton Library are also working with Libraries Unlimited to help fund additional improvements which will include enhancing the entrance area.
Libraries Unlimited is a charity responsible for running 50 libraries and the mobile library service in Devon on behalf of Devon County Council and the four libraries in Torbay on behalf of Torbay Council.
They will be carrying out the work using specialist contractors, ensuring that the library will meet the needs of the local community and offer them an even more enjoyable and welcoming space to visit.
Customers are encouraged to use Newton Abbot Library whilst the work is being carried out. All library customers can also access their accounts to reserve and renew items or browse the catalogue online at devonlibraries.org.uk.
Councillor Roger Croad, Devon County Council's Cabinet Member for Communities, said: "We are glad to be able to support the renovation of Kingsteignton Library. Libraries do vital work and are important community hubs in many places and we are committed to making sure that they meet the needs of local residents. The funding we have provided will help modernise the space and make sure it is a welcoming environment for all those who use it.
Councillor Ron Peart, Devon County Council's Local Member for Kingsteignton and Teign Estuary, said: "The Kingsteignton library is a central part of the local community and I am happy to see it being renovated with our funding. I would like to thank Devon County Council for funding this project and the Friends of Kingsteignton Library for their hard work fundraising for additional improvements."
Elizabeth Thompson, Chair of Friends of Kingsteignton Library (FOKL) stated "Everyone is delighted that this invaluable community facility is receiving this internal refurbishment to meet the growing town's needs and improve staffs' working areas.  FOKL has been wonderfully supported in its fundraising efforts by the local community who regularly attend the various and varied fundraising events. This has enabled FOKL to improve and maintain the garden area around the library and provide a colourful welcome to all library users.
Elizabeth continued "FOKL looks forward to continuing its endeavours to support Kingsteignton Library and to assist Libraries Unlimited in improving the library service in Kingsteignton, and throughout Devon".
Alex Kittow, Chief Executive of Libraries Unlimited said: "This is a fantastic way to kick off the new year and to announce a further refurbishment to our libraries portfolio.  We know Kingsteignton Library is well used by the local community and these developments will really make a difference to the customer experience.  We're grateful to the Friends of Kingsteignton Library for their ongoing support in helping bring about this refurbishment, and for continued fundraising to do even more to improve the space.  We continue to work with our partners across Devon and Torbay to secure funding to support and develop our libraries so that we can continue with the vital work we do.  We look forward to seeing the people of Kingsteignton when the library opens again on Monday 30th March."
For more information visit devonlibraries.org.uk, follow @DevonLibraries on Twitter and Facebook.com/Devonlibraries or visit your local library.