Hundreds of children turn out for the launch of the 2017 Summer Reading Challenge
Posted on 17 Jul 2017
Hundreds of families gathered at Barnstaple Library on Saturday 15th July to celebrate the launch of the 2017 Summer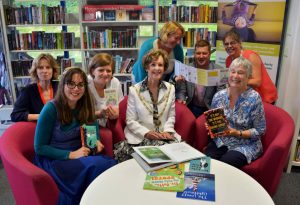 Reading Challenge.
Despite the weather, Barnstaple Library, Castle Green and Library Square were packed full of local authors, organisations and exotic animals, plus over 530 children who were the first to sign up to this year's Summer Reading Challenge.
Local authors including Olli Tooley, Dan Metcalf, Miriam Latimer, Claire Barker, Lisa McNeill, Alan Bosley and Victoria Eveleigh were on hand offering storytelling sessions and crafts, and organisations such as Devon Wildlife Trust, The Plough Arts Centre, Sciencedipity, Goodwin Art Gallery and Exmoor National Park also entertained children as they made their way around the event.
Devon Libraries' FabLab provided 3D scanning and printing demonstrations, and children had the chance to play the piano using bananas with a makey makey kit, all of which will be available to use at Barnstaple Library later this year as the charity expands its FabLab offering across the county.
The Summer Reading Challenge, run by The Reading Agency in partnership with libraries, encourages children to read six books of their choice during the summer holidays. This year's theme is Animal Agents, and each child that takes part is given a free Animal Agents Challenge Pack, illustrated by the UK's best-selling children's illustrator Tony Ross.
The Challenge kicked off across the country on Saturday 15th, with several Devon Libraries holding events and activities to get children signed up. As well as the event at Barnstaple Library where children enjoyed meeting creatures from Exmoor Zoo, Exmoor Pony Centre, Really Wild Learning and Safe Haven Exotics, Bideford, Appledore and Northam Libraries hosted workshops with Zoo Lab, offering animal handling experiences.
Throughout the rest of the summer there are hundreds of events taking place at libraries across the county, and it's not too late to get children signed up to take part. Children aged between four and eleven can enrol for free at any Devon library, and will be given their special Animal Agents challenge packs.
The aim of the Summer Reading Challenge is to encourage children to continue reading for pleasure during the holidays. This year, the Animal Agents are looking for help in solving a mysterious case, and children that join in with the fun will be given new clues each time they visit the Library to pick up new books, and will also receive special stickers and incentives along the way. On completing the challenge, all children will receive a special medal and certificate.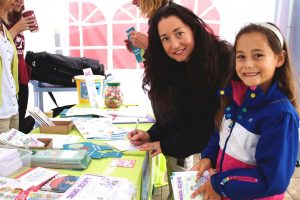 Ciara Eastell, Chief Executive of Libraries Unlimited, the charity responsible for running Devon Libraries, said: "It was fantastic to see so many people turn out for this year's launch of the Summer Reading Challenge. We had an impressive total of 533 children signing up on the day and the Library was absolutely buzzing with excitement as children picked their first summer reads. It was a pleasure to see so many local authors at the event, and a real treat to have everything from an Exmoor pony, snakes, lizards, dogs and cockroaches playing the role of Animal Agents!
"The Summer Reading Challenge is such a great way to ensure that children's reading habits don't dip during the summer months. Each of our libraries will be holding a number of events this year and those that complete the challenge will receive certificates and goodies to reward their achievement. We look forward to welcoming children to libraries across the county for the rest of summer to promote and encourage reading for pleasure."
Last year, 755,208 children across the UK took part in the Summer Reading Challenge, including 87,042 in the south west and more than 11,000 children in Devon. Libraries across Devon held a combined 262 events and more than 6,500 children attended events within Devon Libraries.
For full events listings, visit your local Library page to see what's on.