Awards, accolades and honours; Libraries Unlimited celebrates first successful year
Posted on 26 Apr 2017
The charity responsible for running Devon's library services has celebrated its first successful year.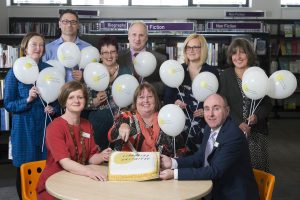 Supervisors, centre managers, trustees and management from across the organisation came together at a strategic development day to celebrate the charity's first birthday.
Libraries Unlimited was officially launched on 23rd April last year after being commissioned by Devon County Council to run Devon Libraries, including 50 public libraries, four mobile libraries and three prison libraries.
The organisation was formed as a social enterprise, headed up by a Board of trustees and a strategic management team, whose aim has been to continue providing a diverse range of library services, whilst seeking new and innovative methods and delivery models to enhance provision across the county.
Currently, Libraries Unlimited employs over 300 staff, many of whom have been with the organisation for a number of years and have been part of the journey from a Council run service to a charity and social enterprise.
The team delivers a range of library services and support people of all ages to learn, create and realise their potential by promoting a love of reading and providing access to a wide range of information and activities from books and Wi-Fi, to 3D printing and business support.
Julie Dent CBE, chair of the Board of trustees at Libraries Unlimited said: "Recognising our first birthday gives us an opportunity to reflect on all the things we have done over the past 12 months, which gives us many reasons to celebrate. As a new organisation and in a time of financial austerity and instability, the team at Libraries Unlimited have achieved great things in a reasonably short space of time. With over £500,000 brought in through external funding, new libraries opening their doors to local communities and new services being developed in parts of the county, it has certainly been a busy and productive year. Now we can start to look forward, and focus on how we can build on these solid foundations."
In September last year, Libraries Unlimited, alongside the University of Exeter, secured a £200,000 Arts Council England research grant that is funding a two-year research project into the social value of libraries. This project, when complete, will go a long way in helping to better understand what people value about their library service, and how libraries can evolve to better support changing societal needs.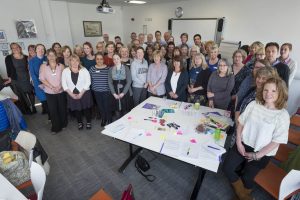 A significant milestone was reached in November when the organisation was granted registered charity status, recognising that the work of Libraries Unlimited is designed for public benefit and enabling the organisation to access financial support fundamental to ensuring the future of Devon's library service.
At the end of 2016, Chief Executive Ciara Eastell was awarded an OBE in the Queen's New Year Honour list for her services to public libraries. Ciara, who has over 20 years' experience working in libraries across the country and has been leading Devon's library service for the past 8 years, was awarded the honour for her national contribution to public libraries as the President of the Society of Chief Librarians (SCL), a voluntary role she held for two years until June 2016.
Working alongside community organisations and library Friends Groups, Libraries Unlimited has so far opened two new libraries in the county. Both Ottery St Mary and Bampton are now home to brand new facilities and improved library services, a result of partnership and collaboration with library supporters from those communities.
In March 2017, Exeter Library hosted a visit from Rob Wilson MP, Parliamentary Under Secretary of State at the Department for Culture, Media and Sport, who awarded FabLab volunteer Nigel FitzHugh a Points of Light award on behalf of Prime Minister, Theresa May. Nigel was selected by the Prime Minister as an outstanding volunteer for his commitment to teaching design and technology to local inventors, artists, small businesses, entrepreneurs and students.
Later the same month, Libraries Unlimited was awarded a grant from Arts Council England to develop and implement innovative new library services across rural communities in North Devon and Torridge, offering a range of exciting literacy and digital literacy facilities.
Thanks to the £245,330 funding, Barnstaple Library will become home to a new FabLab PLUS, equipped with specialist digital machinery such as 3D printers and laser cutters, as well as providing training, workshops, and courses on creative writing and digital content creation including vlogs, blogs and videos. To ensure the facilities are available to new and existing service users, a new outreach programme will be designed to allow digital tools and opportunities to visit communities in Bideford and Ilfracombe with the mini FabLab, a mobile digital making lab.
Ciara Eastell, Chief Executive of Libraries Unlimited said: "This time last year when we were setting out on our journey to becoming an independent organisation, we knew that we would face some challenges. We also knew that there was an immense amount of possibilities that came with the changes we faced, and we were ready to start looking at new ways of delivering our library service to better meet the needs of local communities.
"Looking back over what we have achieved and how far we have come is a pleasure, and it's down to the hard-work and commitment of our staff that we have been able to achieve so much, whilst keeping libraries open and services running. I'm incredibly grateful for the huge amount of effort that has gone on behind the scenes to get us where we are today. We have made good progress in establishing Libraries Unlimited, locally and nationally, as an industry leading organisation.
She added: "We will now focus on promoting library services and attracting new users, reaching out to old users and continuing to support our loyal customer base. The next twelve months will no doubt bring with more challenges, but with a successful year behind us we are more confident to face those challenges head on and continue towards our vision of making a positive difference to people's lives and communities through a shared love of reading and access to high quality information and facilities."
Emily Macaulay, Centre Manager at Exeter Library said: "The changes our organisation has been through over the past year have brought with them exciting opportunities that allow me, as a Centre Manager, to support innovation and creativity within Exeter Library. Staff have continued to provide excellent customer service day in day out, despite all the structural changes we have seen, and it has remained a priority to ensure the public receive the wonderful, warm and focussed service they are used to."