2019 UK-China Library Forum
Posted on 29 Apr 2019
Blog By Ciara Eastell, former Chief Executive of Libraries Unlimited
I recently participated in the 2019 UK-China Library Forum, along with public library colleagues from across England and Scotland.  The conference, which took place in Chengdu in China, was part of a partnership between the British Library and the National Library of China.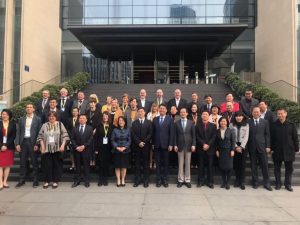 Public libraries who are part of the British Library's Living Knowledge Network were invited to participate in the visit.  Library colleagues from Manchester, Liverpool, Birmingham, Sheffield, Leeds, Wakefield, Kirklees, Edinburgh and Suffolk attended, together with representatives from the British Library and Arts Council England's Director of Libraries.
Here at Libraries Unlimited, we are proud to have been one of the first cohort of partners of the Living Knowledge Network, which facilitates links and partnerships across the UK's major city libraries along with the national libraries of Scotland and Wales.
Over the two days of the Forum, we met with our opposite numbers from Chinese public libraries and were invited to share our respective experiences of innovation and service developments in several key areas:  Audience, Digital and Innovation, Staff and Place.
The Forum began with formal speeches from the British Library's Chief Librarian Liz Jolly, Chen Ying, Deputy Director of the National Library of China and He Guanglun, Director of Sichuan Provincial Library.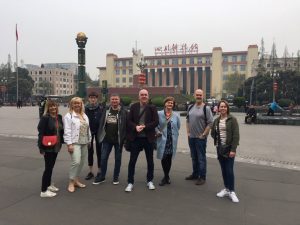 Hosted by the Sichuan Provincial Library, the Forum highlighted that:
In recent years, the number and scale of Chinese public libraries have been growing substantially in response to increased investment, expectation and new library legislation which came into force at the beginning of 2018.
The scale of some public libraries in China is beyond anything that we in the UK would ever experience. We learned that the new library in Guangzhou, for example, typically receives over 28,000 visitors every day!
Chinese library colleagues are experimenting with new approaches to bringing additional audiences to the library. The experience of Wuhan Library where library staff are developing outreach services to engage industrial workers and their families who might not otherwise have the time to visit the library is just one example.
Despite the difference in scale and levels of investment, there are many more similarities between Chinese public libraries and UK public libraries than there are differences. Both countries are thinking hard about how best to ensure that all library staff, whether new or more established, receive the training and development needed to keep pace with changing user needs and expectations.  Both countries are exploring the digital platforms needed to reach users.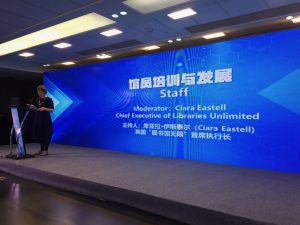 The Forum ended with an evening entitled 'Shakespeare Connects:  Cultural Dialogues between the UK and China' hosted by Chengdu Library.  Speakers included Tom Epps, Cultural Partnerships Manager at the Library of Birmingham, Sue Williamson from Arts Council England along with Chinese Shakespeare experts Lou Jiali from the British Council and Jiao Yang from Sichuan University.  To a sell out hall, speakers talked about the respective importance of Shakespeare to both UK and Chinese audiences.
Photos © Nick Partridge, Service Manager Libraries Archives and Information Services, Sheffield