Unlocking 6 year old Elspeth's love of reading during lockdown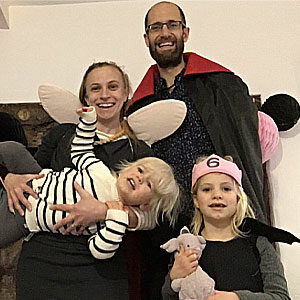 For the Snook family in Exmouth, and in particular 6 year old Elspeth, their local library has been a lockdown lifeline.
Katie and her husband David, along with Elspeth and brother Clement, 2, have lived in the town for 12 years. Elspeth was half way through her first year in primary school when the first lockdown happened.
Katie said: "She was really enjoying school life and had just started getting excited by the possibility of reading proper stories. The first term's focus on phonics and blending sounds was paying dividends and she was hugely satisfied by decoding words on the page and understanding simple sentences. This was supported by a steady stream of books back from school and supplemented by the armfuls she would bring back from our local library each week."
Whilst the family found obtaining essential groceries was easy enough, keeping Elspeth's reading going proved to be a different matter.
They initially turned to ebooks, after discovering publisher Oxford had made a selection of reading scheme books available for free. Elspeth began to enjoy the Project X alien series, working her way through it and becoming more confident in her reading.
"But then we reached a point where next in the series was only available as a printed book," said Katie. "The individual books (which she read in one go) were about £7 each. Even second hand with postage they were a fiver and there were 96 in the series! How could I keep this enthusiasm developing in my little reader going without spending a silly amount on books?"
Katie saw on social media that Exmouth library was due to partially reopen in July. She set about reserving all the books she could online. Soon she received an email confirming a bundle was waiting for her.
"It was so brilliant to head back into one of our favourite spaces to collect our pile and to see the familiar faces of Beatrice, the head librarian, and her team, even if they were all behind masks and at a safe distance," said Katie. "Beatrice was great at spotting new books in Elspeth's favourite series and finding them for me, and also picking up new titles for us to read to her. We became hooked on the Isabella Moon series by Harriet Muncaster and the Jolley Rogers series by Jonny Duddles. By the time Elspeth went back to school in September she was reading fluently and expressively and planning her own books and graphic novels. Elspeth's new teachers were really pleased to see how much she had taken to reading."
Katie charted Elspeth's favourites on her Instagram, in the hopes she'd inspire other parents with book choices. And during the third lockdown, she's continued to find library services a lifesaver for her book-loving daughter, taking advantage of the Choose and Collect service where she could pick up bundles of books she had pre-ordered, or even have them dropped at her door by library staff on their way home!
Katie finished: "And so it began, another fantastic chapter in our relationship with Exmouth library. Now when there is a knock at the door Elspeth is disappointed when it's only the postman, she is always eagerly waiting for her next instalment of library books.
"Although times have been hard, and we have really missed family and friends, the bonds we have to people and services, like the library, in our community feel stronger and more important than ever. So whilst we can't be together we can be connected. And when we can be together, I hope we continue to value those things which made such a difference to our lives during this pandemic."