Welcoming Alex Kittow as our new Chief Executive
Posted on 11 Mar 2019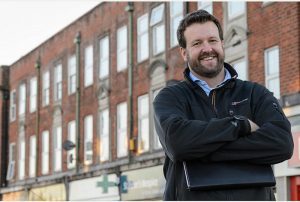 We are thrilled to announce Alex Kittow as our new Chief Executive, from 1st June 2019.
Alex is currently Chief Executive of Bristol-based charity Southmead Development Trust and will succeed Libraries Unlimited's founding Chief Executive, Ciara Eastell OBE, to oversee the running of our 54 libraries and four mobile libraries across Devon and Torbay.
Alex Kittow said:
"I am hugely excited by this role and the opportunity to help and support Devon and Torbay's libraries to thrive in every way. I have seen first-hand the impact libraries have had on my own children and acting as a hub for communities and am passionate about the role they play in supporting people at all stages of their lives, from those learning to read to those people using libraries as a place of comfort and companionship. I am aware of the challenges faced by library services up and down the country, but Libraries Unlimited has clearly achieved a huge amount in three years and I'm looking forward to driving the organisation forward both to create a more financially sustainable future for libraries whilst continuing to deliver the huge variety of vital services to local communities.
He continued: "I'm looking forward to getting to know the team, from the trustees, to the library supervisors, volunteers, Friends Groups and local communities that we serve. This is a really exciting new prospect for me. I've worked in a variety of organisations both here in the UK and across the world, and am keen to bring my skills to the table to ensure libraries are thriving, busy spaces that offer people the resources, information and support that they need in their everyday lives."
Alex has been in his current role for nine years, where he has played a pivotal role in increasing the traded income, securing and delivering a number of contracts and grant-funded projects. Under Alex's leadership the combined annual turnover across all the charity's assets has increased to over £40million which includes many start-up businesses, social enterprises and charities delivering services to the local community. This has enabled a significant increase in the positive impact the organisation has on its beneficiaries, as well as growing its financial reserves and improving the governance structure.
He has been responsible for leading the charity to engage with over 35,000 individuals per year including 4,500 volunteers across the multi-site charity. He worked on a variety of major health and wellbeing projects, positioning the Trust as a 'Healthy Living Centre' and enabling the delivery of two long term mental health contracts, plus major health improvement projects for Bristol City Council and NHS England. Most recently he has led the charity to develop one of the UKs largest community led housing projects.
Alex started his career in Plymouth and has lived and worked in various locations in Devon. Prior to his role at Southmead Development Trust, Alex has worked for Partner Aid International, based in East Africa, and in a Project Management role for the Ministry of Defence. He is on the Board of trustees for a number of charities and organisations.
Professor William Harvey, Chair of the Board of trustees and Associate Dean of Research and Impact at the University of Exeter Business School said:
"We had a large number of impressive applications for the Chief Executive role at Libraries Unlimited and the selection process has been thorough, including a wide range of stakeholders. Alex's experience as Chief Executive of another charity and his leadership and entrepreneurial skills are impressive and exactly the sort of skills and expertise the Board are seeking in a new CEO.
"Whilst it is the end of an era for Libraries Unlimited as we say goodbye to Ciara who has been crucial to the success of the charity so far, we are very excited about what Alex can bring to our organisation and the new direction he will take us. We are confident that his skills, passion and his energy will help us to deliver an outstanding library service for years to come."