Walking before the dinosaurs
Posted on 24 Sep 2020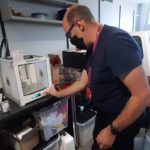 3D scanning and printing technology at FabLab Devon brings 240 million year old history to life
A 240 million year old footprint belonging to a creature that lived before the dinosaurs has been given a new, high-tech lease of life with a 3D scanner and printer at Exeter Library.
The footprint in a lump of rock was brought to the FabLab in Exeter by local author Jo Earlam. It's the print of a Rauisuchian, a pre-dinosaur reptile, and was found on the beach below Peak Hill, Sidmouth, in the winter of 2012/13 by Bristol University palaeontologist Dr Rob Coram. Dr Coram identified it as the first Rauisuchian to be found in the area.
Marcus Brown, FabLab Exeter Digital Making Tutor said: "Jo wanted to create a plastic replica of the footprint that was much lighter to take around schools when she does talks. It also needed to be robust so it cannot be dropped and broken. It was a real case of history meets the future, and was one of the most memorable days I've ever had working in the FabLab."
FabLab Devon allows people to design and create just about anything with 3D printers, a laser cutter, a CNC router which cuts and engraves, a digital embroidery machine, hot press, A1 printer and other technology.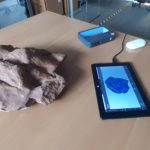 Rauisuchians were meat-eating carnivores that grew to five metres in length and looked like a mix between a crocodile and dinosaur. Dr Coram donated the footprint to Sidmouth Museum, where it inspired Jo to write her new book Rosa's Footprint.
Jo said: "The fossil footprint was a momentary step upon the earth's surface, but something that had lasted through the evolution of our world and a connection to a different geological time frame. Rosa's Footprint is the story of a young Rauisuchian called Rosa who learns her own environmental awareness that spans the shifting sands of time.
"I read and discussed the story with children at Newton Poppleford Primary School where I'm a volunteer, and through their interest, and with the support of Sidmouth Science Festival we decided to have a competition for children to write their own stories about the footprint.
"It was such an exciting moment taking the real footprint in to FabLab Devon and seeing it scanned using 21st century technology. The replica footprints that Marcus has printed are amazingly detailed, and really do look rock-like."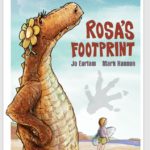 Rosa's Footprint will be launched as part of Sidmouth Science Festival on October 17th. Children from seven local primary schools will be writing their own stories about the footprint and environmental awareness, and mini versions of the footprint will be awarded as prizes in the competition.
Kate Mackenzie, Libraries Unlimited Service Delivery Manager, said: "As the coronavirus pandemic hit, FabLab met the call for urgently needed Personal Protective Equipment (PPE), producing plastic visor attachments and reinforcements as part of a volunteer group led by Dr Rupa Chilvers of Exeter based company Tangerine Bee. Printing a Rauisuchian footprint was another out of the ordinary request that we were only too happy to perform. FabLab Devon is proving itself to be an incredible community resource for people who would normally never be able to gain such easy access to 3D printing technology."
FabLab Devon is situated in Exeter Library and Barnstaple Library and is managed by Libraries Unlimited, the charity responsible for running Devon and Torbay Libraries. It is just one of the facilities in the wide Libraries Unlimited cultural offering. FabLab Devon offers a membership, and runs workshops, birthday parties for adults and children, and an outreach programme. Email for appointments or further information: fablab@librariesunlimited.org.uk