Topsham Library open today!
Posted on 02 Jun 2017
Topsham Library will be opening the doors to its temporary new home today (Friday 2nd June), from 14:30pm.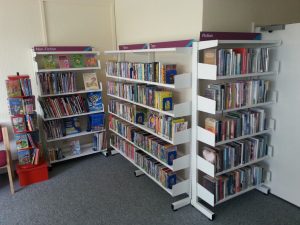 The library has been temporarily relocated to the Nelson Close Community Centre whilst a new Community Hub, which will include a new library space, is built on the former library site by the Estuary League of Friends.
The Library won't be able to offer WiFi or access to public PC's initially, but these services should resume by the end of June.
Topsham Library, run by Libraries Unlimited, will operate from the temporary premises whilst the building work takes places and will continue to offer all of the usual services, from book, e-book and audiobook loans, digital magazines, WiFi and book groups.
Libraries Unlimited is leasing the space from Exeter City Council and worked closely with them to consult with residents and secure planning permission. The Library has been closed since 13th April to allow for the relocation.
The temporary library has been redecorated and carpeted, and residents will continue to benefit from the improvements when the library moves back into the new Community Hub next year.
Library opening hours will be slightly altered to ensure that residents retain access to the main lounge room for social activities on Wednesday and Thursday afternoons.
The opening hours in the temporary library will be as follows:
Monday – 14.00-17.00
Tuesday – 10.00-13.00 & 14.00-17.00
Thursday – 10.00-13.00
Friday – 14.30-17.00
Saturday – 10.00-13.00
Ciara Eastell, Chief Executive of Libraries Unlimited, the charity responsible for all of Devon's library services, said: "We are really pleased to be able to resume normal service in Topsham. We would like to thank our regular library users who have been patient whilst the relocation took place, and the residents of the Nelson Close Community Centre, who have welcomed us into their building.
"It's an exciting time for Topsham, with the new Community Hub building underway which will provide a modern and fresh space for improved library services alongside all of the other community facilities available. Libraries today are often thought of as community hubs, bringing people together in a welcoming and relaxed environment. The facilities that will be on offer in Topsham's new community building will really complement the library's offering and we hope it will bring new people into the library, allowing them to discover the wide range of services that we provide."
Once complete, the Community Hub will house improved library facilities as well as a day centre room, community café, exercise and fitness space, two treatment rooms, a laundry, meeting/training room and serviced offices.
Estuary League of Friends will start work on the development of the Community Hub in May, with an estimated opening date of June 2018. The new two-storey building will provide space for a range of community events and activities alongside Estuary's existing services.