The Owl and the Pussycat Coffee House comes to Exeter Library
Posted on 24 Sep 2019
Popular South Devon café and restaurant company, The Owl and the Pussycat, will be moving into the café at Exeter Library at the end of the month.
Sandra and Mokhless Bouzayen, the couple behind the The Owl and the Pussycat, jumped at the chance to take on the popular library café following a successful year of running the café in Newton Abbot Library at the Passmore Edwards Centre.
The Owl and Pussycat Coffee House will open its doors at Exeter Library on Monday 30th September, offering 10% discount to all customers to celebrate their first week of operation.
Sandra said: "We have had a brilliant year running The Owl and the Pussycat Coffee House in Newton Abbot Library. The customers have been incredibly supportive, and we've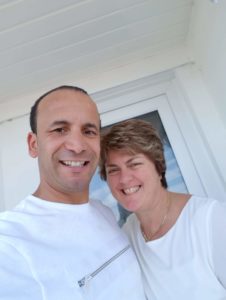 enjoyed being based within the buzzing atmosphere in the library. When we saw that the café was vacant at Exeter Library we knew it was the perfect opportunity for us to extend our reach. We cant wait get moved in and I look forward to offering Exeter Library customers the chance to enjoy my homemade cakes and much more!"
Chef and proprietor Sandra will be offering a full lunch menu including sandwiches and hot meals, organic and fair trade coffee as well as a wide range of teas and other drinks. Customers can enjoy their food knowing that The Owl and the Pussycat use high-quality, fresh and local produce wherever possible.
Exeter and Newton Abbot libraries are run by Devon-based charity, Libraries Unlimited. Steve Turner, Head of Commercial and Innovation at Libraries Unlimited said: "We're absolutely thrilled that Mokhless and Sandra have had such a successful year in Newton Abbot that they wanted to take on the café within Exeter Library. Their range and quality of food and their commitment to local and traceable ingredients and animal welfare-friendly meat, dairy and eggs has proved popular with the local community. We know that the community here in Exeter love the café in the library, it's always full of people of all ages making the most of what our building has to offer. We were sad to see Real Food leave earlier this month, so it's great that The Owl and the Pussycat Coffee House will be opening so soon. We know there are lots of regular library and café customers who will be pleased to welcome Sandra, Mokhless and the team too."
The Owl and the Pussycat Coffee House will open on 30th September, the opening hours will be as follows (please note the café will not be open on Sunday 6th October):
Monday: 9am – 5pm
Tuesday: 9am – 5pm
Wednesday: 10am – 5pm
Thursday: 9am – 5pm
Friday: 9am – 5pm
Saturday: 9am – 4pm
Sunday: 12pm – 3pm