The Lost Art of Letter Writing
Posted on 19 Jul 2019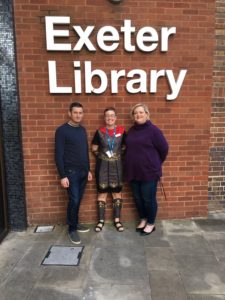 Exeter Library is looking for participants for round two of the pen pal exchange collaboration with Exeter Community Library in Pennsylvania, USA.
Following the success of last year's pen pal programme "Pen Pals Across The Pond", Exeter Library is inviting local residents to sign up for the 2019 exchange.  The programme is open to everyone over the age of 18.
In our 'fast world' there is a pleasure in exploring the art of handwriting letters.  The 'analogue' process of letter writing is a creative act.  Choosing the writing paper, slowing down to write, crafting the words in your handwriting and posting the letter for it to make its long journey to the recipient.
"Pen Pals Across The Pond" acts as a cultural exchange, each pen pal can learn more about their pen pal match and understand more about each other's life and locality.  The programme is fully inclusive and open to everyone over the age of 18.
In 2018, 15 Exeter pen pals were matched with their American pen pals.  Earlier in the year Exeter based Chris McClay got the opportunity to meet his pen pal Mika Gery, who made her first trip to the UK.  Chris and his wife spent time with Mika showing her around Exeter Cathedral, local vintage shops and various historical sites in Exeter.  Another highlight for Mika was a trip to the theatre.  "I like historic architecture and I got to see many churches and the cathedral." Said Mika "What I enjoyed most was avoiding the tourist traps and living like a local."
Pop into Exeter Library to fill out a form giving your name and interests.  All participants will be matched with a pen pal in Exeter, Pennsylvania, USA.  Initial contact will be made via the library's address and participants can develop their letter exchange once this first contact has been made.
Sign up by 31 July 2019 to be included in this year's Pen Pal Programme.  For further information please visit Exeter Library or contact Emily Macaulay, Centre Manager at Exeter Library via Emily.Macaulay@librariesunlimited.org.uk.