The elephant in the room at Barnstaple Library's brand new FabLab
Posted on 01 Feb 2018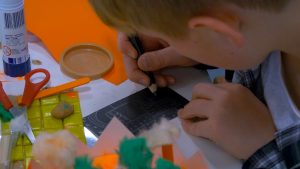 Libraries Unlimited, the charity that runs Devon's libraries is excited to announce the opening of Devon Libraries' second FabLab at Barnstaple Library on Thursday 15th February.
FabLab Devon is an open-access community space offering digital and design equipment for anybody to use, invent and make almost anything. The launch will be open to members of the public, from 10am – 4pm, with exciting activities such as recreating the Barnstaple Library elephant, 3D printing, laser cutting and making music with bananas using Makey Makey kits.
Barnstaple Library's elephant has been inspired by the collection of tusk and bone fragments from the rare straight-tusked elephant; Palaeoloxodon antiquus. The prehistoric artefacts are currently on display at Barnstaple Museum. The fossils were excavated from Summerland Street, just a short walk from Barnstaple Library in February 1844.
Straight-tusked elephants once roamed the plains of Europe but became extinct in the UK around 115,000 years ago. The FabLab team have the creativity and technology to recreate a model of the elephant using the new laser cut printer. Families are invited to decorate sections of the elephant which will then go on display in the library.
A mini FabLab experience will also be available on the day, where participants can take part in activities such as 3D printing, laser cutting, vinyl cutting and a print experience. It is recommended that those looking to take part book prior to the event as spaces are limited. This can be done by visiting the FabLab eventbrite  or by visiting Barnstaple Library.
Ciara Eastell OBE, Chief Executive of Libraries Unlimited said: "We're really excited to launch our second FabLab Devon at Barnstaple Library. This new facility is a fantastic addition to the library's offering and we hope many will come and see first-hand how they can benefit from the new creative community space. It has been fantastic to see the creativity that has taken place in our FabLab in Exeter Library, and so I recommend visitors to the launch get involved and hands-on with what we have to offer. We'll also be offering exclusive membership offers on the day.
She continued: "This new FabLab is being delivered as part of our Unlimited Potential project, which has been delivered thanks to funding from Arts Council England and Devon County Council. Through the project we have been able to trial a range of new services and bring arts, events, business support and digital technology and equipment to the people and communities of North Devon and Torridge. We also plan to take our mobile FabLab out to more rural communities across the area so that as many people as possible can experience these new facilities."
Phil Gibby, Area Director, South West, Arts Council England, said: "We are delighted that our investment in Libraries Unlimited through our The Libraries Opportunities for Everyone Innovation Fund is supporting the launch of a second innovative FabLab in Devon. Libraries have always been at the heart of our communities and it's fantastic that through this project people of all ages and from across the community will have the opportunity to engage in creative practices, supporting them to develop new skills and meet new people."
Unlimited Potential continues to roll out its programme of events and activities in libraries across North Devon and Torridge. For more information about Unlimited Potential events in the area, visit www.librariesunlimited.org.uk/projects