Summer reading success makes way for autumn 'Active Life' campaign
Posted on 03 Oct 2017
The results from this year's Summer Reading Challenge have been revealed, coinciding with the launch of the 2017 Active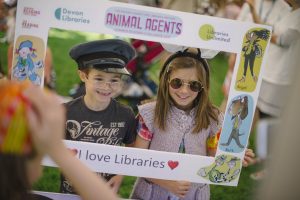 Life Active Mind programme of library events throughout October.
The 2017 Summer Reading Challenge saw an impressive 10,522 children in Devon aged between four and eleven sign up to read six books during the summer holidays.
All 50 of Devon's Libraries, run by Libraries Unlimited, held events and activities to inspire children to read throughout their summer break, resulting in 892 children signing up to become new members of Devon Libraries.
The Summer Reading Challenge is a national initiative led by The Reading Agency, designed to encourage children to enjoy reading for pleasure and prevent children's reading skills from dropping during the holidays.
Libraries across Devon held a combined 263 events during the summer, working alongside local authors including Claire Barker and Olli Tooley, and organisations such as Exmoor Zoo, Really Wild Learning and World of Country Life. Libraries also hosted a number of theatre performances with Boo to a Goose theatre and Isabella's Story Bicycle. The events were attended by a total of 6,536 children and were supported by over 100 young volunteers.
The announcement of this year's results coincides with the launch of the 2017 Active Life Active Mind programme.  Active Life Active Mind is an annual programme of library events promoting positive health and wellbeing.
The 2017 programme has now been launched and includes over 200 events across the county designed to help people get, and stay healthy. Events include Music Monday at St Thomas Library, featuring intimate gigs with local artists and a musical evening with harpist Hazel Prior and Take Note Community Choir at Tiverton Library, free energy advice with South Dartmoor Community Energy at Kingsbridge Library and a horsemanship for health talk at the Passmore Edwards Centre at Newton Abbot.
Other events include a health and wellbeing fair at Ivybridge Library, complimentary health and therapies talk at Okehampton Library and TED Talks and Afternoon Tea Discussion Group at Seaton Library.
During the 2016 Active Life Active Mind programme, almost 200 events across the county were attended by over 3,000 people, with 76% of participants stating that the event helped them to make new connections within their community and 43% were encouraged to be more active.
Ciara Eastell, Chief Executive of Libraries Unlimited, the charity responsible for the running of Devon's libraries, said: "We are really pleased to reveal our programme of events for our annual Active Life Active Mind initiative at the same time as our results for this year's Summer Reading Challenge. Library staff, volunteers and Friends Groups work incredibly hard every year to organise events and activities that will make a difference in their communities and both the Summer Reading Challenge and Active Life Active Mind are important milestones for us.
"National research evidences the importance of sustaining children's reading during the summer to maintain skills and development, so I'm pleased that almost 11,000 children have been encouraged to pick up a book this summer. The Active Life Active Mind programme is as diverse as ever this year, with events for people of all ages and interests. Last year we helped people to get more active and to look after their health and wellbeing and I hope that this year we will see some new and familiar faces getting involved with the events we have planned."
Active Life Active Mind runs for the month of October, and every library in Devon has something happening to promote positive health and wellbeing. Regular events such as Lego Club, Reading Groups and Friends Group meetings will still be taking place at normal times.
 To find out what's on at your local library, you can view the full brochure here.