Special book-themed 'lockdown quilt' which took 80 hours to make goes on tour
Posted on 24 Jun 2021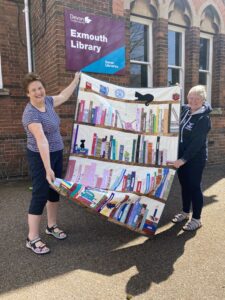 A quilt inspired by a love of books and reading is going on tour around libraries in Devon.
The quilt has been created by Exmouth & District University of the Third Age (U3A) members and depicts shelves of books and a curious cat.
It took 12 quilters 80 hours of work to design, cut and stitch.
The beautiful quilt will tour libraries over the next year and it will be raffled to raise money for Libraries Unlimited. Raffle tickets will be available in libraries and online.
Béatrice Drecq, Senior Library Supervisor at Exmouth Library said: "We are delighted to exhibit the book-theme quilt in our libraries.  Not only it is a beautiful piece of work, but it is also a real example of resilience achieved by these local women during the pandemic.  The funds raised for Libraries Unlimited will be used to make a difference to the people and communities we support across our local libraries.
We would like to thank the Quilting Fun for their generosity and looking forward to drawing a happy winner.  The closing date will be 30th June 2022, 5pm. The draw will take place on Thursday 14th July 2022. The winner will be notified on the same day of the draw".
Clare Dawson from U3A Exmouth and District said: "Once a year our quilting fun group works together to produce a quilt with a theme, and then donates it to a chosen local charity.  This year it was a book-theme quilt and we decided to donate it to Exmouth Library because a book lover might win it in a raffle. What better place than donating it to a library!
"This is a very special quilt as it was started on the third week of the first lockdown, and nothing stopped the 12 members of the group organising themselves and working creatively together via Zoom to complete it.  I coordinated the work and gave each member the same square of fabric for the background of the quilt.  They used different techniques such as appliqué, paper piecing and embroidery, as well as their own personal creative touch.
"When the restrictions were slightly eased, they were able to meet in each other's garden or dropped the completed squares through my letterbox. I put all the squares together to finish it, and we're very pleased with how it looks. It's a great memento of our lockdown."
The 170cm by 120cm quilt will be on display at libraries in East Devon, Mid Devon and Exeter, with the raffle taking place in July 2022 at Exmouth Library.
June 21 

 

Exmouth Library 

 

July 21

Sidmouth

Library

August 21 

 

Axminster Library 

 

September 21  

 

Budleigh Salterton Library 

 

October 21 

 

Honiton Library 

 

November 21 

 

Ottery St Mary Library

December 21 

 

St Thomas Library 

 

January 22 

 

Exeter Library 

 

February 22 

 

Teignmou

th Library 

 

March 22 

 

Crediton Library 

 

April 22 

 

Topsham Library 

 

May 22 

 

Sea

ton library 

 

June 22 

 

Raffle closes 

 

14

th

 July 22 

 

Exmouth Library: 




Raffle Draw! 

 
Anyone wanting to take part in the raffle can find out more at: https://www.peoplesfundraising.com/raffle/book-theme-quilt