Sir Peter Bazalgette's Desert Island Books
Posted on 07 Nov 2018
The Friends of Totnes Library recently welcomed British TV executive and former Chair of Arts Council England, Sir Peter Bazalgette, at their regular Desert Island Books event at Totnes Library. Sir Peter was asked to name the 10 books he would take if he was stranded on a desert island, here's what he had to say…
Sir Peter Bazalgette – Desert Island Books
To be asked to name 10 desert island books is a delicious challenge. It means you can recall all your favourite reads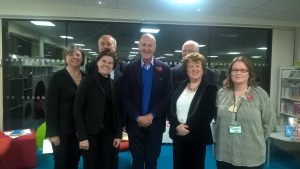 and wallow in them. But narrowing them down is ticklish.
I went for 5 fiction and 5 non-fiction, covering works from 3 centuries and 5 countries. If they excite your curiosity, why not borrow them from your local library?
Fiction first:
Joseph Andrews by Henry Fielding. A rude, rumbustious 18th century satire that makes you laugh out loud.
Mr Scarborough's Family by Anthony Trollope. One of his last novels, with a wry take on the growing trend for female emancipation in the 1880's.
The Good Soldier Schweik by Jaroslav Hasek. A brilliant & surreal satire of the First World War by a Czech humorist, and the acknowledged inspiration for the author of my next book…
Catch 22 by Joseph Heller. In my opinion, the funniest book ever written…an exquisite exploration of human folly in the Second World War.
To The Lighthouse by Virginia Woolf. Her best novel, a modernist gem and the most positive, complete thing she ever wrote.
Now, non-fiction:
East West Street by Philippe Sands. Winner of the Baillie Gifford prize in 2016. At once a scholarly study of the Nuremberg trials and a moving, personal history of the destruction of Jewry in Central Europe.
Stalin by Simon Sebag Montifiore. One of the finest (and most chilling) biographies ever written. Draws on the revealing Soviet archives, now once more closed off.,
War in Val D'Orcia by Iris Origo. Classic tale of wartime Italy written by Irish American who married into the Tuscan aristocracy.
Border by Kapka Kassabova. Beguiling travelogue set in the Balkans with more than a flavour of Leigh Fermor and Bruce Chatwin.
The Empathy Instinct by Peter Bazalgette. Apologies for picking my book about how to create a more civil society. But it's only 1 of 10… when Elizabeth Schwarzkopf was on Desert Island Discs she chose 7 of her own records!