Scorching Summer Reading Challenge results revealed as Devon and Torbay's library staff come together for second annual staff conference and AGM
Posted on 26 Oct 2018
Over 12,000 children and young people in Devon took part in the 2018 Summer Reading Challenge,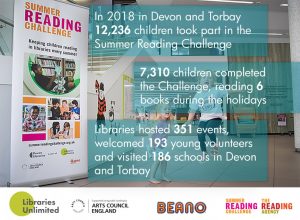 with a record number of participants completing the Challenge by reading six books during the summer holidays.
An impressive 6,661 children aged between 4-11 were awarded their very own medal and certificate for completing the Challenge at one of the 50 Devon Libraries, and an additional 649 children completed the Challenge at one of the four Torbay Libraries.
The results were announced at the Libraries Unlimited annual staff conference and AGM, which also saw the release of the charity's latest Annual Report.
Over 100 staff from across Devon and Torbay's libraries came together at Petroc College in Barnstaple to discuss the opportunities in working and engaging with children and young people and promoting and inspiring a love of reading, alongside some of the UK's best-known authors and art organisations.
Keynote speaker, author Bali Rai, is firmly established as a leading voice in teenage fiction in the UK and across the world. His debut novel, (UN)ARRANGED MARRIAGE was shortlisted for nine awards, winning The Angus, Stockport, North Lanarkshire and Leicester Book awards and is now part of the GCSE reading list. He spoke to library staff about the importance of encouraging children and young people to read, and how libraries played a vital role in his ambition to become an author.
Bali was joined by the likes of local children's author Claire Barker, author and Libraries Unlimited Patron Stella Duffy OBE, Ben Payne from the Ministry of Stories, Kavina Upadhyay from The Roundhouse and Dan Barton from youth charity Space* who all discussed the importance of reading and literacy for children's development and life attainment.
Alan Crickmore from charity Storybook Dads spoke about the charity's mission to connect prisoners with their children through the power of stories and reading. Storybook Dads was founded in Dartmoor Prison and is now based at HMP Channings Wood. The charity is supported by a number of prisoners and Libraries Unlimited prison library staff, who record CDs and DVDs of prisoners reading stories to be sent to their children to help them sustain family bonds.
Phil Norrey, Chief Executive of Devon County Council chaired a panel session at the conference to discuss issues faced by children and young people in Devon. He said: "As the former Director for Education you might expect me to say that it's great that the focus of this year's conference is children and young people. It was a fantastic opportunity to chair a panel discussion between a young librarian, a youth worker and a well-established and successful local author to share our views on today's issues and ways that libraries can and do support young people.
He continued: "I was delighted to be asked to come here today. We at Devon County Council want to say thank you to all at Libraries Unlimited and to celebrate their very evident success over the past two years, it's something of which we are very proud."
Local children's author Claire Barker said: "It's so important to encourage children and young people to develop a love of reading because that really is key to their future happiness and success. All of the research backs it up; if you're a reader then the world is yours to take. Libraries and library staff play such an important and positive role in people's lives. Libraries are one of the most public yet intensely private spaces I know. For me, the library was the first place, outside of my mother's lap, that I felt that I could relax.
She continued: "Two years have passed since I made a speech at the launch of Libraries Unlimited and I am very pleased to say they have all doors still open. And thank goodness for that because the stakes are higher than they have ever been, particularly for young people. Libraries Unlimited aren't just still alive, they are full of purpose; their eye fixed on a new world. I was so proud to see that Libraries Unlimited was very recently selected as one of the 50 New Radicals in the Observer. This stuff is not for the faint-hearted. 2.7 million visits in the last year. Hear them roar."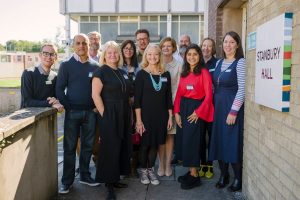 In the evening following the conference, Friends Groups, trustees, staff, commissioners and guests of charity Libraries Unlimited came together to hear the latest performance of libraries across the county and to celebrate the release of the Annual Report 2017/18 at the annual general meeting.
Ciara Eastell OBE, Chief Executive of Libraries Unlimited, revealed a significant increase in the use of online resources such as eBooks and eAudiobooks, as well as an increase in active users of the library service, WiFi sessions and people served through the home library service.
She said: "During year 2017/18 we loaned over 1.8 million books and welcomed people to 9,000 events held in our libraries. The services we provide benefit thousands of individuals across the county and we are incredibly proud of that – from books and magazines, health and wellbeing support, guidance in finding employment and providing company for rural and isolated people, there is something for everyone. We are really pleased with this year's Summer Reading Challenge results which signify how much time and effort library staff are putting into the Challenge to sustain children's enjoyment in reading and help ensure children's reading abilities don't drop during the school holidays.
She continued: "Our staff do all they can to make libraries welcoming, helpful and friendly places for people from all backgrounds and it's fantastic to be able to celebrate their achievements by bringing them together at our inspiring staff conference. We look forward to continuing to explore new and exciting ways of engaging with communities, and inviting people to come and discover our world of stories, information, inspiration and creativity. It's not an easy time for libraries, as high street footfall continues to decline and people access more and more services online. However, we do all we can to promote libraries and the important services they offer to local communities.  I'd like to encourage everyone to visit their local library and discover all that is on offer."