Round Table on Libraries and Health
Posted on 30 Jan 2019
Blog by Colin Bray, Service Development Manager for Health and Wellbeing
I was delighted to recently attend the All-Parliamentary Group on Arts and Wellbeing Round Table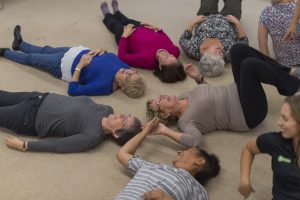 focused on the important contribution libraries make to health.
The Group is chaired by Lord Howarth of Newport, and contributors included Bob Gann Health Librarian and Digital Inclusion Specialist, NHS Digital; Rachel Flowers, Director of Public Health, Croydon and Jan Holden, Head of Libraries and Information, Norfolk County Council Library and Information Service. A full list of contributors is below.
As the Service Development Manager leading on Libraries Unlimited's work on health and wellbeing I was keen to hear the views of leaders from across the library and health worlds, sharing evidence about all of the things that libraries do to support health and wellbeing, and exploring ways in which libraries can make an even greater difference in the coming years.
The evidence presented articulated an exciting consensus across health and library sectors, namely that libraries will continue to play a key role in breaking down the barriers between health services and communities going forward. The NHS England Taskforce Guide on Social Prescribing Outcomes and the increasing role of GP Practices in supporting the health of their whole population point to a real need for libraries as a trusted universal service, free at the point of use and embedded in local communities.
A further point of agreement around the table was an awareness of the critical role libraries play in enabling people to access and navigate health information and the health service digitally. As patients are increasingly encouraged to access services digitally, libraries remain an essential point of access to both technology and practical digital support.
However, the discussions also acknowledged that in order to fulfil their potential in supporting health and wellbeing, libraries need to be connected to health services strategically and with access to health service funding at both the national and local level.
Libraries understand that when someone visits a library they do not do so as a 'patient' or a 'student' or, well, 'as' anything. They visit as themselves, as individuals. This gives us – and every public library – huge opportunities to deliver preventative health support and services to people exactly where they are, within their everyday routines.
Libraries in Devon had over 2,700,000 visitors last year and held over 1,000 events and activities including our annual Active Life Active Mind festival showcasing the many ways our libraries support individual and community health and wellbeing. From April 2018 we also took on the running of Torbay Libraries, enabling us to have an even greater impact on communities across Devon and Torbay.
To conclude:
Libraries connect people to the wider world and to each other
Libraries inspire people to Be Active, to imagine and to create
Libraries enable people to Take Notice and explore the world around them
Libraries offer a welcoming space to Keep Learning
Libraries empower people to Give to others and realise their potential
I very much look forward to libraries and health services working more closely together in the coming years – this really is vital work.
Contributors:
Lord Howarth of Newport
Bob Gann Health Librarian and Digital Inclusion Specialist, NHS Digital
Rachel Flowers, Director of Public Health, Croydon Council
Jan Holden, Head of Libraries and Information, Norfolk County Council Library and Information Service
Isobel Hunter, Chief Executive Officer Libraries Connected
Nick Poole, Chief Executive Officer, CILIP
Dr Malcolm Rigler GP
Professor Nigel Sparrow OBE, Senior National GP Advisor, Care Quality Commision
Sue Williamson, Director of Libraries, Arts Council England
Debbie Hicks, Creative Director, The Reading Agency