Ready, Set, Read!
Posted on 19 Jun 2023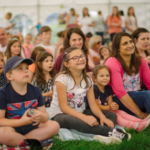 Free fun and games for kids are on offer throughout the forthcoming summer holidays in libraries across Devon and Torbay.
The 2023 Summer Reading Challenge, produced by The Reading Agency and delivered in partnership with Libraries Unlimited, will be giving youngsters the chance to keep going with their reading during the holidays – along with a bonanza of other activities.
This year's annual Challenge is entitled 'Ready, Set, Read!' and is supported by the Youth Sport Trust. The focus is on sports and games, but kids can enjoy books, comics, picture books, novels, poetry, eBooks and eAudiobooks on any topic they enjoy.
The Summer Reading Challenge is aimed at keeping up kids' reading skills across the summer holidays, a time when they traditionally dip.
Lucy Banks from Libraries Unlimited, the charity that runs libraries across Devon and Torbay, said: "Last year over 10,300 children across the county kept up their love of books thanks to the Summer Reading Challenge. Having regular access to books and encouragement to read for pleasure can be a game-changer in setting children up for a lifetime of learning and enjoyment."
"Even though the sun has come out and the heating is off, the cost-of-living crisis is still a daily worry for many people in Devon and Torbay. Finding things for children to do across the summer can really challenge budgets, so we're pleased to be offering the Summer Reading Challenge, along with many of our summer activities completely for free. That's in addition to our regular programme of children's groups and activities including Lego and coding clubs, storytimes, arts and crafts and more."
Parents can sign up their children for the Summer Reading Challenge for FREE at any library. Youngsters set their own goal on how many books they commit to reading, and collect special stickers along the way. Once they finish, they get a medal and are entered into a free draw with prizes including:
£100 Crealy gift cards
A Woodlands family ticket
Go Ape Treetop Adventure vouchers
Exmoor Zoo family tickets
Tickets to The Milky Way Adventure Park
River Dart Country Park tickets
Family ticket to enjoy at Scott Cinemas.
Prizes have been kindly donated by The Milky Way, River Dart Country Park and Scott Cinemas to help encourage children to keep up their reading this summer.  The Milky Way is an award-winning, all-weather adventure park in North Devon with lots of fun for all the family. River Dart Country Park Set is an action-packed attraction set in 90 acres of parkland within Dartmoor National Park, with plenty to do in the great outdoors. Scott Cinemas have locations spread across the whole county, where you can catch a movie of your choice at your local cinema.
Children can take part in the Challenge at summerreadingchallenge.org.uk. Launches for 'Ready, Set, Read!' will be happening on Saturday 8th July across the region, with our grand launch taking place at Tavistock Library, where there will be plenty of fun and games and a visit from Elfic the Jester. The challenge will run until Saturday 16th September.