Private Eye comes to Exeter Library
Posted on 10 Jan 2019
Nationally renowned cartoonist Tony Husband will be bringing some of his award-winning works to an exclusive exhibition at Exeter Library.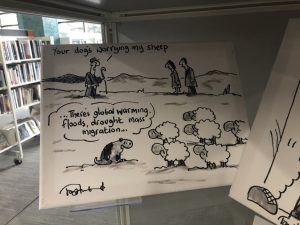 Visitors to the library will be able to browse the exhibition 'Tony Husband & 35 Years of Private Eye' throughout the building, free of charge. The illustrations have been specially prepared for this display and document Tony's work for the UK's number one best-selling news and current affairs magazine, Private Eye.
Tony has been a full-time cartoonist since 1984, with his work appearing in many newspapers, magazines, books, TV shows and theatre productions. As well as Private Eye, his work has featured in The Times, Punch, Playboy, The Sunday Express, The Spectator and The Sun. He has won more than 15 major awards for depicting the British way of life. Yobs, which he draws for Private Eye, is one of the best-known comic-strips in Britain.
Daniel Clark, Creative Director at Libraries Unlimited said: "We can't wait to see Tony's exhibition in place at Exeter Library, we're huge fans of his work. It's a real honour that he has agreed to display his brilliant work here in the city, and in a place where people can see it free of charge. Exeter Library regularly welcomes more than 2,000 people a day, and we hope that each and every person that visits will enjoy this unique exhibition. It comes at a perfect time and forms part of our new Arts Council England funded Evolve programme of art and cultural events and activities. We'll also soon be releasing details of cartoon workshops hosted by Tony, being held in Exeter and Barnstaple libraries in March."
The exhibition will be installed throughout the library and will be available to view in full from Friday 11th January until mid-April. Tony will also be hosting two family comic book workshops in March in both Exeter and Barnstaple libraries where families can create their own comic strips. At the end of the event, the strips will be combined to form a comic book which will go on display within the libraries. More details and booking information will be released soon.
Tony said: "Exeter Library is a fabulous library and I'm privileged to be here with this exhibition. I'll be working with Daniel to run some family workshops later in the spring in both Exeter and Barnstaple, creating characters and stories with people to form their own comic strips. I love working with children, they are great at creating cartoons. Hopefully by the end of it we'll have a new Exeter and Barnstaple based Beano!"
Exeter Library is one of 50 Devon Libraries run by charity Libraries Unlimited. Founded in April 2016, Libraries Unlimited delivers Devon County Council's library service including 50 libraries across Devon, four mobile libraries, two FabLabs and Business and Intellectual Property Centre's in Exeter and Barnstaple Library. The charity also run's three prison libraries in HMP Exeter, HMP Channings Wood and HMP Dartmoor, and in April 2018 was commissioned to run Torbay Libraries on behalf of Torbay Council.
Also in April 2018, Libraries Unlimited became one of just six library sector organisations to become an Arts Council England National Portfolio Organisation. The charity will launch its Evolve programme of art and cultural events this spring, including bespoke interactive artworks, theatre screening events and workshops and talks.