Popular escape room experience comes to Cullompton, Tavistock and Okehampton libraries
Posted on 28 Sep 2021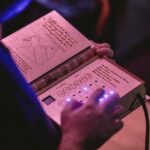 Six people, ten books, sixty minutes, one mystery… Can you solve it?
Book now for The Lost Librarian and test your puzzle-solving abilities! Following a sold out run at Exeter Library in July, the escape room experience arrives at The Hayridge library in Cullompton on 2nd October and will stay until 16th October.
After that you can catch it at Tavistock Library from 23rd October – 6th November, and Okehampton Library from 13th – 27th November.
The Lost Librarian is a ground-breaking escape room for inquisitive explorers of all ages. Using interactive mechanical books, groups of up to six people experience a 60-minute journey, uncovering a fantastical tale of the last known witches in the UK and the legacy that they have left behind. Groups will work as a team to solve the mystery of the Lost Librarian.
Devised by Lizzie Johnson (Designer / Fabricator / Producer), Kyle Hirani (Technologist / Roboticist), and Matt Gibbs (Writer / Narrative Designer), the project brings together their passion for art, design, technology, and storytelling, as well as their deep love of games and puzzles, to create an interactive experience that is both playful and engaging.
The Lost Librarian herself is Molly Allison, a librarian who has been researching the Devon Witch Trials and the local legends of their 'Secret Treasure'. To throw off a mysterious rival, Molly has had to hide her research and the treasure within the library, creating a web of puzzles and clues to protect it – the 'books' she has made. The technology that powers the puzzles themselves, enables us to present touch sensitive mazes, logic puzzles, and word searches, as well as puzzles that require very different input, such as having to make certain gestures to unlock a clue.
Daniel Clark, Creative Director at Evolve said "We are really pleased to be bringing The Lost Librarian to Cullompton, Tavistock and Okehampton this autumn. The escape room has proven to be very popular, not only in terms of ticket sales but also in the amazing feedback we have received from customers. Come along to find out why people loved it! We're also planning to tour it to other libraries in the South West next year."
After completing its run this autumn on 27th November at Okehampton Library, the escape room will take a short break before resuming its tour in the spring.
The Lost Librarian is part of the Exeter, UNESCO City of Literature Programme. More on UNESCO can be found at exetercityofliterature.com  
Tickets are available to book via Eventbrite, for £12 per session. Recommended for ages 12+ unless accompanied by an adult. Find out more and how to book at librariesevolve.org.uk
To coincide with the launch of The Lost Librarian, the creative team behind the experience have opened the doors to share some of the techniques behind this innovative production in two free masterclasses.
Matt Gibbs is a WGGB Award nominated writer, narrative designer, and editor. He has worked on games such as DICE's Battlefield 1, Creative Assembly's Total War: ROME II, and Ubisoft Reflections' Driver San Francisco, and is a Partner at Talespinners, a cooperative providing writing, narrative design, and consultancy for games. In Matt's pre-recorded class you can learn all about writing stories for gaming experiences, from computer games through to interactive artworks.
Elizabeth Johnson is a designer and fabricator for animation, theatre and public engagement works and a resident artist at Puppet Place in Bristol. She has designed physical playable experiences big and small, and in her pre-recorded class she will take you through the journey of designing your own interactive artworks, as well as looking into the creative process behind the Lost Librarian.
The Lost Librarian experience has been designed in order for people to be able to engage with confidence with Covid19 safety measures. Groups of 6 maximum to take part at any one time and all surfaces will be cleaned regularly.
The safety of both our staff and our customers are important to us, and we are working hard to ensure libraries provide a safe and protective environment. To find out more about how we are welcoming our customers safely visit devonlibraries.org.uk
If a booking has to be cancelled due to changes in Government rulings then you will receive a full refund.