Pop-up exhibition on the act of writing comes to Exeter Library, inspired by Writing: Making Your Mark at the British Library
Posted on 25 Apr 2019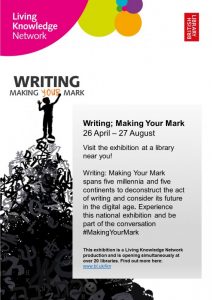 On Friday 26 April 2019, pop-up exhibitions on the origins, means and future of writing will simultaneously launch in over 20 partner libraries around the UK, including at Exeter Library, in tandem with the opening of Writing: Making Your Mark at the British Library in London.
Through images of carved stone inscriptions, medieval manuscripts and early printed works, the family-focused pop-up displays will span five millennia and five continents to deconstruct the act of writing and consider its future in the digital age.
The free pop-up exhibition at Exeter Library (26th April – 27th August 2019) will be augmented with material from relevant local and regional archives, accompanying events and an interactive learning trail, enabling visitors of all ages to engage in a nationwide conversation exploring one of humankind's greatest achievements – the act of writing – through the Living Knowledge Network.
The Living Knowledge Network is an innovative partnership of public libraries based in major cities and towns working in collaboration with the British Library, the National Library of Scotland and the National Library of Wales. The Network shares resources, skills and ideas, promoting the enduring values of libraries. As a Network we believe new and innovative ways of working will benefit the millions of people who use public libraries in the UK every day.
Joanne Kirkpatrick, Senior Supervisor at Exeter Library said: "Complementing the pop-up display will be our in-house curated exhibition, Marginalia. Giving you the opportunity to see some of the oldest books in Devon, Marginalia will showcase books from our Special Collections Archive at Exeter Library.
She continued: "Marginalia are scribbles, comments, annotations or doodles that have been added to books over the years. These unique additions add to the history of each item and hint at the individuals who have read, studied and enjoyed these books over their long history."
The Special Collections Archive is held at Exeter Library and kept in The Cage, a specially designed secure room within Exeter Stack, constructed in the late 1970s. The Special Collections Archive consists of early printed books ranging in date from 1480 to c.1900. Keeping these collections adds depth and breadth to Devon Libraries' existing stock and preserves these rare and unique items for future generations, as well as assisting readers of all ages with their learning and information needs. Exeter Library has a programme of exhibitions throughout the year to showcase and promote the Special Collections Archive.
Liz Jolly, Chief Librarian at the British Library, said: "The Living Knowledge Network is a unique partnership of national and public libraries united by a shared vision to bring knowledge alive for everyone and we are delighted to be to be working with 22 libraries across the UK to share the British Library's exhibition, Writing: Making Your Mark. We are looking forward to building on the success of the first Living Knowledge Network display, which was based on the British Library's Harry Potter: A History of Magic exhibition and welcomed over 775,000 visitors between 2017 and 2018."