Ottery St Mary Library announces relocation date
Posted on 30 Jan 2017
Ottery St Mary Library will move into its new premises in the former NatWest bank during the week of 20th February, Libraries Unlimited has revealed.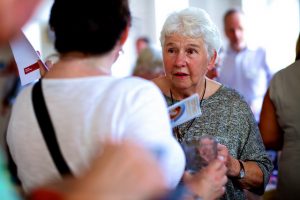 The relocation of the library will be carried out over the course of the week, officially opening its doors for the first time on Saturday 25th February.
The building has been significantly refurbished through a partnership with Ottery St Mary Town Council, Devon County Council and Libraries Unlimited. The Friends of Ottery Library have also helped to raise funds to contribute towards the new library furniture.
The new library will offer improved accessibility, with step-free access for those with reduced mobility and parents or carers bringing children in pushchairs, as well as providing a bigger and more modern space for new facilities.
The building also boasts flexible space that can be used for special library events or can be hired by the public, businesses and community groups.
Inside, the new library will benefit from new books, a variety of comfortable reading areas and a bigger and better children's library with a greater selection of books and resources. There will also be a dedicated area for teens with study space, lounge seating and specially selected books for their age range.
Local residents were invited to a public consultation event held by the Friends of Ottery St Mary Library early in 2016, and plans for the layout of the new library were on display for a further two-week public consultation period during autumn last year.
Residents were invited to feedback on the proposed design and layout and the team at Libraries Unlimited have subsequently been collating and analysing all feedback to ensure the library meets the requirements of all members of the local community.
Ciara Eastell, Chief Executive of Libraries Unlimited said: "We are really pleased to have a set date for the relocation of Ottery St Mary Library. This is the first new library opened by Libraries Unlimited and is just one of several library relocations and improvements we have planned over the coming year. We are thrilled that the people of Ottery St Mary will soon benefit from the new facilities.
She continued: "As a charity, our aim is to deliver a modern and accessible library that is designed to meet the needs of its users. We have taken into consideration the feedback from the public consultation, and are confident that residents will be pleased with the end result and look forward to welcoming them to the new building."
The last day of opening at the current library will be Saturday 18th February and it will then close for one week to allow for the move. Any loans will be extended so they will not be due back during the short closure period.
Local residents can find out more about the final plans by visiting the current library during normal opening hours, where they can view a detailed display.
Ottery St Mary Town Council will also have a base in the library to provide local information and new public toilets.
Devon County Council's Cabinet Member with responsibility for libraries, Cllr Roger Croad, said: "I should like to congratulate Ottery St Mary Town Council, Libraries Unlimited and Ottery library Friends Group for their vision and enterprise in enhancing library provision for the residents of Ottery.
"Libraries Unlimited are a go-ahead independent charity which we helped set up in 2016 to provide the county's library service.  This new library in Ottery shows the potential of Libraries Unlimited to deliver new and innovative services across the county."
In a bid to improve library services across the county, Libraries Unlimited has also announced that two other libraries will be relocated to more suitable premises in the coming months. Plans are now in place to relocate Bampton Library to its new premises in the new Library and Resource Centre (LARC) in Spring this year and details will be revealed about the relocation of Chagford Library in due course.