Only library book to survive Exeter Blitz goes on display for 80th anniversary
Posted on 03 May 2022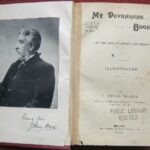 Original Exeter Library destroyed during the bombings on May 4th 1942.
A poignant remnant of Exeter's WW2 Blitz is being put on display at the city's library to mark the 80th anniversary of the bombing.
The only book to survive when the library was destroyed by fire in an air raid on May 4th 1942 is being taken from the archives for a special day of remembrance.
English Men of Letters: Life of Thomas Gay by Edmund Gosse received some singeing to its edges but was discovered otherwise miraculously intact in the ruins of the library staff office.
Libraries Unlimited Chief Executive Alex Kittow said: "In the early hours of May 4th 1942 Exeter suffered the worst air raid of the war. The library was surrounded by the flames of other burning buildings and within hours was completely destroyed along with almost a million books and historic documents.
"Incredibly just this one book survived. It's been carefully stored amongst the thousands of historic and special books that we hold behind the scenes at Libraries Unlimited. It's a pleasure to bring it out for people to see for this anniversary."
The original library was opened in 1930 on the same site as the existing building next to Rougemont Gardens. But it served the population of Exeter for only 12 years before the destruction. In all during the Exeter Blitz 1,500 houses were obliterated and 2,700 badly damaged, along with 400 shops, almost 150 offices, 50 warehouses and 36 pubs.
The library was repaired as part of the so-called Exeter Phoenix plan but it soon became obvious it was no longer big enough to serve the growing city. The current building was constructed in 1965 and refurbished in 2014.
Alex Kittow added: "The anniversary of our Blitz here in Exeter comes at an incredibly poignant time with the ongoing invasion of Ukraine. Our thoughts are with the libraries in the UNESCO cities of literature of Lviv and Odesa which unbelievably face the threat of similar destruction today. The past is ever present and the importance of libraries as custodians of the community memory, culture and identity remains as strong as ever."
The book will be on display in the foyer of Exeter Library at 4pm on Wednesday 4th May along with other volumes from the time including one that was recently found in a charity shop by local historian Ian Maxted.
Ian said: "I recently picked up My Devonshire book by J. Henry Harris, which was published by the Western Morning News in 1907, in a charity shop in St Thomas. It bears all the hallmarks of a long and useful life in Exeter Central Library and is stamped 'Public Library Exeter'. There is a date stamp for 2 July 1940, so the book must have been withdrawn after that date. We don't know its history after that time but what is certain is that it had a lucky escape from the fire. At the current rate of 30p pence a day, it would have incurred fines of £8,760 – it's just as well fine levels are capped!"