Northam and Appledore summer readers get an extra boost from Asda Community Foundation
Posted on 26 Jul 2017
Asda Community Foundation has supported the 2017 Summer Reading Challenge at Northam and Appledore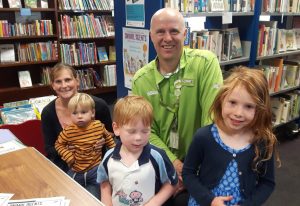 Library, by donating children's goodie bags filled with a range of treats.
The two libraries, run by Devon-based charity Libraries Unlimited, have been giving out free goodie bags to all children that sign up to this year's challenge, thanks to a generous donation from local store, Asda.
This year's theme is Animal Agents, and the Challenge was launched on Saturday 15th July with a visit from ZooLab UK, offering children an animal handling experience with some exotic creatures. Children that signed up on the day were given reusable goodie bags packed full of surprises such as bubbles, raisins, yoyos and skipping ropes and the bags.
The Summer Reading Challenge, run by The Reading Agency in association with libraries, is a national initiative for children aged between four and eleven. The aim is to encourage children to read six books throughout the summer holidays.
Children can enrol for free at any Devon Library and will be given special Animal Agents challenge packs, illustrated by the UK's best-selling children's illustrator Tony Ross.
Asda Community Champion, Peter Wilcox, attended the launch event at both Northam and Appledore Library where over 120 children signed up to the Challenge. To date, more than 3,000 children in Devon have signed up to and will be aiming to complete the Challenge by early September.
Peter Wilcox said: "ASDA Bideford are proud to support this great initiative to encourage children to continue reading books over the long summer break, while enjoying keeping active and healthy."
In this year's Challenge the Animal Agents are looking for help in solving a mysterious case, and children that join in with the fun will be given new clues each time they visit the Library to pick up new books, and will also receive special stickers and incentives along the way. On completing the challenge, all children will receive a special medal and certificate.
Throughout the summer there will be lots of events happening in all Devon Libraries, with many libraries offering animal handling experiences, author visits, craft events and storytelling sessions.
Ciara Eastell, Chief Executive of Libraries Unlimited said: "The Summer Reading Challenge is an exciting time for us and for children across Devon. All of our libraries work hard to provide a range of events and activities to keep children reading throughout the summer months. It's fantastic that organisations such as Asda Community Foundation recognise the importance of literacy and reading, and continue to support our libraries to encourage children to get involved in the Challenge."
Children can sign up for the Summer Reading Challenge at any point throughout the summer in any of Devon Libraries. To complete the Challenge, children must read at least six books of their choice and library staff will be on hand to support children throughout the Challenge.
Northam and Appledore Library will be holding several events over the coming weeks, including.
Northam Library events:
• Monday 31 July 14:00 – Lego Animation Workshop FREE
• Wednesday 2 August 10:30 – Agent Eight Legs FREE
• Monday 7 August 14:00 – Really Wild Learning £2
• Monday 14 August 15:30 – The Fisher Knight's Tale £2
• Monday 21 August 14:00 – Mini-medics first aid for 8-12 year olds FREE
• Monday 4 September 14:00 – Teen-aiders first aid for 13-16 year olds FREE
Appledore Library events:
• Thursday 3 August 10:30 – Animal Themed Lego Club
• Wednesday 16 August 14:00 – Agent Eight Legs Craft
• Thursday 24 Aug 10:30 – Secret Agent Craft Activity
To find out what's on at your local library, visit devonlibraries.org.uk