New space in Totnes for children isolated by the pandemic to have fun
Posted on 03 Sep 2021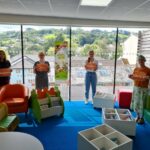 Children who've missed out on important play and creative time with others during lockdown are being invited to try out a new space in the town later this year.
The children's section at Totnes Library, Fore Street will be refurbished towards the end of the year and will be open by Christmas 2021.
The space has a theme of nature and will mirror the views of the Totnes hills through the library windows. The space will be comfortable for children to settle down to read, and versatile enough to run regular groups and activities for all ages. There will also be a breastfeeding corner within the new children's library.
Grants for the revamp were successfully applied for by Libraries Unlimited, including Totnes Town Council's Community Grants for which they were awarded £2,885 in May 2021. The final stage of the new look – fitting a brand-new carpet – is receiving fundraising from a sponsored walk in September.
Eve Ashton, Library Supervisor from Totnes Library, said: "We want to inspire children to be inquisitive of their surroundings and the design of the refit will show views of the Totnes hills outside the library. The new look includes plenty of space for them to sit around reading and will be used to run regular groups and activities such as the ever popular Bounce & Rhyme and Tiny Tales. We also want local charities that support children to use it.
"We hope it plays a crucial part of rebuilding the community following the pandemic. We know that across three lockdowns little ones not only missed out on schooling and access to books and learning but also valuable play and creative time with other children. We hope we'll not only be welcoming back our regular young customers but that the new children's library area will attract new families from Totnes and the surrounding area."
To raise the money needed for the new carpet, the library team will be walking from Totnes Library to Dartmouth Library on Sunday 26th September……dressed as bumble bees! There will be at least five members of the team completing the 9.4 mile walk in the nature-themed costumes. To support them please go to justgiving.com/fundraising/totnes-library