New library space opens up in Ashburton
Posted on 10 Oct 2023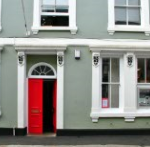 Ashburton Library is welcoming back loyal and new customers after moving up in the world!
The library has relocated to a bigger space upstairs from its old location at 4 Lawrence Lane – and has had a fresh new look in the process.
The much-loved community space closed in early April and will reopen on Friday 13th October. The new library is fully accessible with a lift for wheelchair users. Staff at the library are busy making plans for new groups and activities for the larger space.
Libraries Unlimited, which runs the library service in Devon and Torbay, hopes the move and all the new activities will prompt local people who've never been to the library before to pay it a visit.
Stuart Rogers from Ashburton Post Office is the owner of the building and has generously funded the refurbishment. He said: "It has been wonderful to be able to offer this improved, modern space for Ashburton's library. Both the library and post office extend a warm welcome to Barclays, HSBC & Lloyds Banks. They continue to be treasured community hubs, and the addition of local banking services makes this upgraded space an even greater asset. I'm proud that we can deliver vital services to enrich our community here on St Lawrence Lane, all under one roof. This will be a UK first."
Alex Kittow, Chief Executive of Libraries Unlimited said: "On behalf of Libraries Unlimited, I want to extend my deepest thanks to Stuart Rogers for generously funding the refurbishment of the library. Thanks also go to the Friends of Ashburton Library for their substantial donation towards the brand new carpet. The space looks fantastic, and has granted our customers, staff and volunteers a refreshed and larger space to enjoy."
"We hope this relaunch will give us a chance to welcome people who've never visited us before – with free WiFi, free computer sessions, and events and groups for everyone with more being planned. There's also our Secret Book Quest reading challenge for children to help them love books and develop their reading skills. We know our library is at the heart of the community and it will be great to welcome everyone back."
Dr. Andrew Prince, Chairman of the Friends of Ashburton Library (FOAL) said: "We at FOAL are delighted that our library in the Post Office is re-opening after its refurbishment. We have had a long and productive cooperation with our Postmaster Stuart Rogers and the benefits of co-location for both the Post Office and the Library can only be increased by this extension to the premises. FOAL is pleased to be able to contribute to some little extras that we trust will make the Ashburton library experience even better for our regulars and for new service users."