Meet Fairtrade farmers at Exeter Library's Fairtrade Fortunes event
Posted on 24 Feb 2017
Exeter Library's Business and Intellectual Property (IP) Centre is offering people the chance to meet two Fairtrade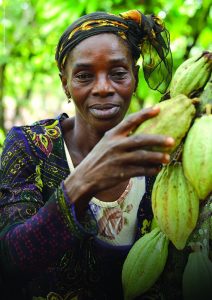 farmers from Ghana and a local jeweller at its Fairtrade Fortunes event on 7th March, as part of Fairtrade Fortnight.
Cocoa producers Isaac Baidoo and Veronica Mintah from Kuapa Kokoo, a cocoa farmers' co-operative, will be talking about their businesses and revealing how Fairtrade has impacted their lives in West Africa.
Local jeweller, Erin Cox, will also speak at the event, talking about her bespoke handmade jewellery and why she chose to source Fairtrade materials, including precious metals and stones, as well as detailing the process surrounding Fairtrade use within business.
Fairtrade Fortnight is a national campaign, running from 27th February to 12th March, organised and funded by the Fairtrade Foundation. The aim of the annual initiative is to raise awareness of Fairtrade products and the positive impact it can have on people's lives.
Farmers across the world receive better deals when they can sell their crop as Fairtrade certified. The Fairtrade system ensures a higher and more stable income, helps people to break the cycle of poverty and enables them to invest in better farming and their local communities.
The free event, held at 5pm on Tuesday 7th March at the Exeter Business and IP Centre, will delve into the lives of Fairtrade farmers that are benefiting from a more sustainable way of trading.
Guests will hear how making a conscious decision to buy, make or sell ethically sourced and produced items can make a huge positive difference to people, on an international scale.
The Business and IP Centre, which is part of Exeter Library and run by Libraries Unlimited, the social enterprise and charity which runs all of Devon's libraries, offers business owners, entrepreneurs and inventors the space and resources to develop new ideas and receive professional advice.
Charlotte Collyer, Enterprise Manager at Exeter's Business and Intellectual Property Centre said: "We are really excited to host our Fairtrade Fortunes event as part of Fairtrade Fortnight. This event will offer guests a unique insight into the Fairtrade market, and how buying, selling or producing Fairtrade products can make a real difference to people's lives. We feel honoured to have Isaac and Veronica talking at the event about their lives in West Africa and giving their own personal account of how Fairtrade has made a difference to them and their communities. Erin, a local jeweller, will also give us an insight into the practicalities of sourcing Fairtrade materials and the difference it has made to her business.
She continued: "The Business and IP Centre is designed to support businesses by providing free information and advice on best practice, on everything from trademarks to marketing. Attendees at this session are bound to leave with a new perspective on trading and will hopefully be inspired to spread the word with friends, family and colleagues alike."
Guests at the event will also be able to sample some free Fairtrade produce, thanks to sponsors Chocolate and Love and Little Miracles. Chocolate and Love, based in Switzerland, uses the finest organic and ethically sourced ingredients to produce its award-winning Fairtrade chocolate bars. Little Miracles blends organic tea, super fruit juice, ginseng and acai to create natural energy drinks.
As a Business and IP Centre, the library follows a programme and ethos developed by the Business and Intellectual Property Centre at the British Library, London, providing support to business owners, entrepreneurs and inventors.
The Centre provides access to a comprehensive collection of online databases and publications, practical workshops, one-to-one advice sessions and inspiring talks. The trained business champion team, working alongside industry experts, are on-hand to provide guidance and information on a range of business issues. To find out more about business resources and events available at the Centre click here.
During Fairtrade Fortnight, campaigners across the UK will be holding lots of events and using the #FairtradeFortnight hashtag to spread the word about their activities. For more information about the #FairtradeFortnight campaign and how to get involved, click here.