Low-cost cinema screenings across libraries this November
Posted on 02 Nov 2023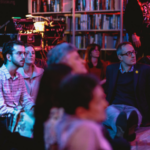 A chance to cosy up and enjoy a low-cost cinema experience is on offer at libraries throughout Devon and Torbay this autumn.
The latest 'Films at the Library' programme will run from Wednesday 8th – Wednesday 29th November. It's the fourth time in two years that Libraries Unlimited, the charity that runs libraries across the region, has hosted a film screening season.
This autumn's line-up will include Golden Globe and Bafta-winning biopic Elvis, and the Oscar-nominated and Golden Globe award-winner The Banshees of Inisherin. Wes Anderson fans will enjoy Asteroid City, and the acting line-up includes Daniel Craig, Jennifer Saunders, Tom Hanks and Olivia Colman.
Programme Coordinator Tamsin Pender said: "Many of us have a huge range of films available to view on our TVs now. And that comes with all the  diversions of home and family life, and of course phones to distract us. . There is still something special about settling down in a warm, cosy environment away from everything else and really absorbing yourself in a good film."
"Our previous 'Films at the Library' season have proved to be really popular with people who want to treat themselves to a film, but for a lower cost. Our screenings are only £3 plus a small booking fee if you're booking online, which is substantially less than the average trip to the cinema. We hope the films we've chosen offer something for every age and taste. Everyone will get a warm welcome at our libraries, and people can bring as many cushions and blankets as they like for extra cosiness!"
Bookings can be done online here and in person at libraries.
The full list of screenings for 'Films at the Library':
Wed 8 Nov 14:00
Newton Abbot Library – book online
Crediton Library – book in person at the library or telephone 01363 772578
The Unlikely Pilgrimage of Harold Fry (12A) 2023
When Harold learns his friend Queenie is dying, he is moved to act. He leaves home, walking to the post box to send her a letter, until he realises a letter is not enough. In that moment Harold decides to keep walking, all the way to her hospice.
Thu 9 Nov 19:00
Braunton Library – book online
Allelujah (12A) 2023
When the geriatric ward in a small Yorkshire hospital is threatened with closure, the hospital decides to fight back by galvanizing the local community.
Thu 9 Nov 18:00
Newton Abbot Library – book online
Knives Out (12A) 2019
When renowned crime novelist Harlan Thrombey (Christopher Plummer) is found dead at his estate just after his 85th birthday, the inquisitive and debonair Detective Benoit Blanc (Daniel Craig) is mysteriously enlisted to investigate.
Sat 11 Nov 10:30
Newton Abbot Library – book online
The Lego Movie (U) 2014
The LEGO Movie follows Emmet, an ordinary, rules-following, perfectly average LEGO minifigure who is mistakenly identified as the most extraordinary person and the key to saving the world.
Sat 11 Nov 14:00
Barnstaple Library – book online
Emily (15) 2022
Emily tells the imagined life of one of the world's most famous authors, Emily Bronte. The film stars Emma Mackey as Emily, a rebel and misfit, as she finds her voice and writes the literary classic Wuthering Heights.
Sat 11 Nov 2023 19:30
Brixham Library – book online
Swimming with men (12A) 2018
A man who is suffering a mid-life crisis finds new meaning in his life as part of an all-male, middle-aged, amateur synchronized swimming team.
Wed 15 Nov 15:00
Seaton Library – book online
Thu 16 Nov 19:00
Braunton Library – book online
Thu 23 Nov 19:00
Cullompton Library – book online
A Man Called Otto (15) 2023
Based on the comical and moving no. 1 New York Times bestseller, A Man Called Otto tells the story of Otto Anderson (Tom Hanks), a grumpy widower who is very set in his ways.
Thu 16 Nov 14.00
Barnstaple Library – book online
(A Black History Month screening in partnership with Sunrise Diversity).
Harriet (12A) 2019
Based on the thrilling and inspirational life of an iconic American freedom fighter, Harriet tells the extraordinary tale of Harriet Tubman's escape from slavery and transformation into one of America's greatest heroes.
Fri 17 Nov 6:30 PM
Ilfracombe Library – book online
Asteroid City (12A) 2023
The itinerary of a Junior Stargazer/Space Cadet convention (organized to bring together students and parents from across the country for fellowship and scholarly competition) is spectacularly disrupted by world-changing events. Directed by Wes Anderson.
Sat 18 Nov 13:00
Churston Library – book online
Elemental (PG) 2023
In a city where fire, water, land, and air residents live together, a fiery young woman and a go-with-the-flow guy are about to discover something elemental: How much they actually have in common.
Sat 18 Nov 14:00
Barnstaple Library – book online
Elvis (12) 2022
The life of American music icon Elvis Presley, from his childhood to becoming a rock and movie star in the 1950s while maintaining a complex relationship with his manager, Colonel Tom Parker.
Sat 18 Nov 16:00
Churston Library – book online
Where the Crawdads Sing (15), 2022
From the best-selling novel comes a captivating mystery. Where the Crawdads Sing tells the story of Kya, an abandoned girl who raised herself to adulthood in the dangerous marshlands of North Carolina.
Sat 25 Nov 2023 11:00
Seaton Library – book online
Joyride (15) 2022
Joy (Olivia Colman) and Mully (Charlie Reid) are two lovable rogues. Joy is angry – she's got a baby and motherhood does not come naturally to her; she feels she's tossed her own dreams aside to give a screeching monster unconditional love.
Sat 25 Nov 13:00
Cullompton Library – book online
Super Mario Bros (PG) 2023
From Nintendo and Illumination comes a new animated film based on the world of Super Mario Bros.
Sat 25 Nov 13:30
Teignmouth Library – book online
Encanto Sing along (U) 2021
This Walt Disney Animation Studios film tells the tale of an extraordinary family, the Madrigals, who live hidden in the mountains of Colombia, in a magical house, in a vibrant town, in a wondrous, charmed place called an Encanto.
Sat 25 Nov 14:00
Barnstaple Library – book online
The Banshees of Inisherin (15) 2022
Set on a remote island off the west coast of Ireland, The Banshees of Inisherin follows lifelong friends Padraic (Colin Farrell) and Colm (Brendan Gleeson), who find themselves at an impasse when Colm unexpectedly puts an end to their friendship.
Wed 29 Nov 15:00
Seaton Library – book online
Champions (12A) 2023
Woody Harrelson stars in the hilarious and heart-warming story of a former minor-league basketball coach who, after a series of missteps, is ordered by the court to manage a team of players with intellectual disabilities.