Louisa Adjoa Parker to share the power of poetry at Paignton Library
Posted on 16 Oct 2023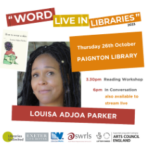 Writer and poet Louisa Adjoa Parker is coming to Paignton Library to support and inspire aspiring Torbay writers.
Louisa is a writer and poet of English-Ghanaian heritage who lives in southwest England. Her first poetry collections were published by Cinnamon Press, and her third, How to wear a skin, was published by Indigo Dreams. Her debut short story collection, Stay with me, was published in 2020 by Colenso Books. Her poetry pamphlet, She can still sing, was published by Flipped Eye in June 2021, and she has a coastal memoir forthcoming with Little Toller Books.
Louisa will run a reading workshop on Thursday 26th October at 3.30pm, exploring some of her work, followed by an author talk which will also be live streamed for those at home to access.
Louisa's poetry and prose has been widely published. She has been highly commended by the Forward Prize; twice shortlisted by the Bridport Prize; and her grief poem, Kindness, was commended by the National Poetry Competition 2019.  She has performed her work in the south west and beyond and has run many writing workshops.
Louisa has written extensively about ethnically diverse history and rural racism, and as well as writing, works as an Equality, Diversity and Inclusion consultant. She is a sought-after speaker and trainer on rural racism, black history, and mental health.
Charlotte Harris-Sumner, Senior Supervisor at Paignton Library, said: "It is very exciting to have a writer like Louisa Adjoa Parker who is so passionate about diversity and inclusion attend the library, and during Black History Month. This year's theme is Saluting Sisters and we can't think of a better person to represent this theme than Louisa."
The writer's visit to Paignton is part of a tour of diverse authors and creative practitioners to 20 libraries across the South West of England.
Supported using public funding by the National Lottery through Arts Council England, the tour is organised by South Western Regional Library Services CIO (SWRLS) in partnership with South West literature development agency, Literature Works.
The 20 libraries on the tour include public, university, college, school and NHS hospital libraries, and they'll be hosting a wide variety of novelists, poets, playwrights and spoken word artists drawn from different backgrounds and cultures, both resident in the South West and new to the area.
Each library has chosen the audience it most wants to reach, ranging from refugees and new arrivals, to young adults, to LGBTQ+, to neuro-divergent members of the local community as well as a broad and general public.
Phil Gibby, Arts Council England, South West, Area Director, commented: "As the national development agency for culture and creativity, we strive to ensure that every person has access to the remarkable creativity and culture on their doorsteps. This collaboration between South Western Regional Library Services and regularly funded organisation, Literature Works, helps us to achieve that mission."
Tickets available to book: ticketsource.co.uk/south-western-regional-library-services-cio
Further tour dates can be found here: literatureworks.org.uk/projects/word-live-in-libraries/