Libraries Week 2019 Celebrating Libraries in a Digital World
Posted on 02 Oct 2019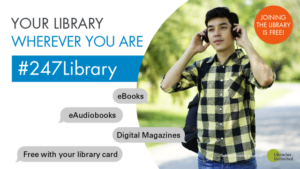 Libraries across Devon and Torbay are celebrating Libraries Week by offering customers unrestricted access to Matt Haig's bestselling title, Reasons to Stay Alive, via eBook and eAudiobook.
Described as 'astounding' by Stephen Fry, Reason's to Stay Alive was in the top ten charts for 49 weeks and has been published by 29 publishers around the world. Thanks to Libraries Unlimited, the charity that runs Devon and Torbay libraries, thousands of customers across the county can download and enjoy the eBook or eAudiobook between 7th – 12th October with no waiting lists or reservations.
Libraries Week is an annual celebration of the nation's much-loved libraries. This year, libraries will be highlighting the different ways that people of all ages can connect with digital books, services and activities, all with their library card.
Libraries Unlimited Service Delivery Manager, Frances Tout, said: "We have a brilliant programme of activities during Libraries Week this year, all designed to help get people connected online and to raise awareness of our vast digital offer. Many people still don't know that they can access free eBooks, eAudiobooks and digital magazines free with their library card. Libraries Week is the perfect opportunity for us to shout about all the amazing things we have to offer to people, and to welcome new people in, whether physically or online, to enjoy our range of services.
She continued: "We are thrilled to be able to offer library customers the chance to download Matt Haig's brilliant book during the week too, and would encourage everyone to take the opportunity to experience this poignant title. There could be thousands of people listening to or reading it simultaneously throughout Libraries Week, which is very exciting! The digital theme this year also enables us to promote our digital support services and events, helping to bring the community together to gain confidence and new skills to get connected, get creative and get online. We will have lots of events happening during the week. Everyone is welcome and the library is free to join."
All Devon and Torbay libraries, two FabLabs and four mobile libraries will also be hosting an event or activity to celebrate the role of libraries in the digital world. There will be sessions to celebrate and explore technology to build skills and confidence, encourage digital participation and inclusion, support health and wellbeing and support local business and enterprise.

Libraries Week takes place from 7th-12th October 2019. A taster of activities taking place across Devon and Torbay's libraries includes:
Appledore Library, Sat 5 Oct, 10-11.30am – Build A Library Of The Future at Lego Club
CILIP is running a competition in libraries inviting people to get creative and build their library of the future out of Lego. There is a CILIP prize of £500 to your local library so come along and take part in this competition.
Colyton Library, Thu 10 Oct, 10.30-11.30am, Grown Up Coding, Cake & Coffee, free
Dartmouth Library will be launching their informal IT help sessions for all ages during Libraries Week. These will be free drop in sessions every Saturday, 10-11am.
Exeter Library, Thu 10 Oct, 7-8.30pm, £8/£6 – StoryTalks: Graphic Novels
Polarbear will be joined by two of the country's most exciting and talented graphic novelists, Joff Winterhart (Driving Short distances – Penguin Books) and Katriona Chapman (Follow me in – Avery Hill). Together they will discuss their inspiration, and how they are breaking new ground in their use of graphics and storytelling to create 3-dimensional work for this ever popular medium. The StoryTalk event will be livestreamed to libraries across the country as part of the British Library's Living Knowledge Network (of which Exeter Library is a member). Tickets for this event are available in advance via Exeter Library or online here.
Holsworthy Library, Sat 12 Oct, pm – Gaming Session for Children
Mobile Libraries – Find out about digital resources when you visit the Mobile Library during Libraries Week
Sidmouth Library, Mon 7 Oct, pm – Litcraft Session
Discover the magic of reading with just a little help from Minecraft! Read a bit of a book, then create the world on Minecraft via a series of unique custom worlds and specially created Minecraft activities.
South Molton Library, Thu 10 Oct, doors open 6.45pm – Digital screening of 'Vitamin Sea' by Plastic Free South Molton
With a special recorded introduction by star Cal Major.
Paignton Library, Thu 10 Oct, 1-3pm – Torbay Stroke Survivors Computer Group
Throughout the week activities with a digital focus for adults and young people will be on offer including coding clubs, Bring Your Own Device, an introduction to digital skills, digital screenings, live streaming of events, one to one digital help clinics, assistance to access digital books and audio books.
Visit your local library to get creative, get connected and learn new skills. Most events are free but check with your local library or online.
We're also celebrating all things digital during Libraries Week, so check out our fantastic range of eBooks, eAudiobooks and eMagazines, all free with your library card, so you can take your library with you wherever you go.
Devon and Torbay Libraries run digital services and activities throughout the year. New visitors can join the library any time during opening hours. A full list of events and timings for Libraries Week 2019 can be found at devonlibraries.org.uk or torbaylibraries.org.uk
You can get involved in the conversation online by using #LibrariesWeek and #247Library.