Libraries Unlimited seeks new Chair with a passion and vision for libraries
Posted on 21 Aug 2018
Libraries Unlimited, the Devon-based charity responsible for running Devon and Torbay's library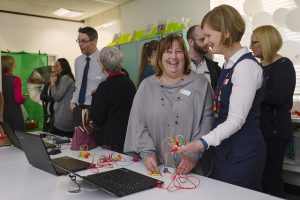 services, is looking for a new Chair of the Board of Trustees.
The charity has been led by Chair Julie Dent CBE since 'spinning out' of the local authority to become an independent organisation.  Julie has significant professional experience of managing and leading large organisations across the South West and in London and was the Chief Executive of the South West London Health Authority, where she was awarded a CBE for her services to the NHS following the London Bombings.
Julie is a passionate supporter of the value of public libraries and has been a user of libraries all her life. She has seen the charity successfully through its first two years of operation, in which time the annual turnover has increased to almost £9 million and the charity has built its reputation as a leading provider of library services.
Julie Dent CBE said: "My time as Chair of the Board of trustees for Libraries Unlimited has been fantastic, and I feel privileged to have been a part of the innovative ideas and work being carried out across the county and beyond, to ensure libraries remain relevant and sustainable for years to come. However, for personal reasons after over three years it is time to let someone else have the opportunity to be a part of this exciting organisation.
She continued: I wish the entire Libraries Unlimited team, at every library and behind the scenes,the very best for the future. And rest assured, I will still be the first on the frontline should the situation change for our county's wonderful libraries and I will continue to be an active library user."
Over the coming weeks, a dedicated Nominations Committee, Chaired by Independent Trustee Morgen Witzel lead the recruitment of a new Chair.  Morgen said: "We are currently seeking an experienced, committed and dynamic Chair to lead and develop our organisation. Applicants will need to have a passion and enthusiasm for libraries and literature, as well as an appetite for change, creativity and innovation. We require someone that can provide Board level leadership, and who is willing to represent our organisation locally and nationally. This will be an exciting and challenging role heading up of one of the UK's leading library services.
He continued: At Libraries Unlimited we are absolutely committed to making a difference to people's lives through imaginative and exciting library and learning services. We are a not for profit
organisation giving us the freedom and flexibility to design and deliver a wide range of
services, greater opportunities to develop income generating initiatives and secure funding
opportunities."