Libraries Unlimited launches new scheme to support people living with long term conditions
Posted on 03 Jul 2017
Libraries Unlimited has launched a new series of reading material to support those living with long term health conditions, as part of the Reading Well Books on Prescription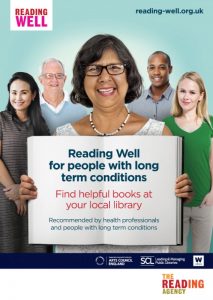 programme.
At a time when 26 million people in England are living with at least one long term condition[1], Libraries Unlimited has launched the scheme within Devon Libraries to provide people with expert endorsed books, available to borrow for free.
Reading Well for long term conditions is the fourth series in the Reading Well Books on Prescription programme delivered through English public libraries. It provides people living with long term conditions, and their carers, with high-quality information, support and advice on a range of conditions.
On average people living with long term conditions spend just four hours a year with a health professional and 8,756 hours self-managing[2]. As a result, there is an enormous need for accessible, quality assured health information to help people understand and manage their symptoms.
Developed with health experts, people living with long term conditions and their carers, the new Reading Well scheme encourages people to take an active role in making decisions about their own health, as well as helping them to understand and manage their conditions. The books are free to borrow from all Devon Libraries as well as in other participating libraries across England.
From 3rd July, Reading Well for long term conditions books will be available to borrow directly from the largest 15 libraries in Devon (for a library list go to www.devon.gov.uk/readingwell) and will be available for free request from any other Library in the county. The eBook versions are also available to loan free of charge from the Devon Libraries website.
To celebrate the launch of the scheme, there will be Pop Up Health Information Points in both Exeter and Barnstaple Libraries. These will take place at Barnstaple Library on Tuesday 4th July 1pm – 4pm and at Exeter Library on Thursday 6th July 10am – 1pm.
Each Pop Up Health Point will include:
·       The chance to be one of the first people to loan the new Reading Well for long term conditions books and speak to a member of the team from Libraries Unlimited about the range of services and opportunities available in Devon Libraries to support and improve health and wellbeing.
·       The opportunity to speak to representatives from OneSmallStep, a new, free healthy lifestyle service. The team will provide a range of free resources for people to take away to support them in achieving a healthier lifestyle. People will also be able to test their lung age and body fat levels, as well as participating in activities to guess how much sugar is in various food products, as well as an alcohol unit.
·       An NHS Health Librarian will be on hand to answer people's health enquiries using gold standard health information sources such as NHS Choices and Patient.info
Reading Well for long term conditions has a recommended reading list of 28 books that were selected by health experts and people living with long term conditions. The list includes health information, memoir and self-management titles and covers conditions such as diabetes, stroke and heart disease, as well as common symptoms such as fatigue, pain, wellbeing and sleep problems.
The scheme is delivered by The Reading Agency in partnership with the Society of Chief Librarians and it is distributed through English public libraries. It is funded by Arts Council England and the Wellcome Trust, and supported by a range of health organisations including Public Health England, Health Education England, Self Management UK and The Richmond Group of Charities. The scheme has been co-produced with people with lived experience with the support of the Coalition of Collaborative Care.
Previous Reading Well topics have covered dementia and memory loss, mental-health and last year's series which covered mental-health challenges faced by young people. Each series has been well used by members of the public, with the series for young children being loaned 2,050 times in Devon over the past 12 months.
As well as Reading Well, Devon Libraries offer a range of other activities and opportunities supporting positive health and wellbeing. From reading groups to volunteering and IT help to various library clubs, libraries offer a wide range of activities.
Ciara Eastell, Chief Executive of Libraries Unlimited said:
"The Reading Well resources have been incredibly well-used in Devon over the past 3 years and it's great to be launching an additional list for long term conditions this week.  We believe that libraries have an important role to play in supporting the health and wellbeing of people across Devon and I would encourage everyone to visit their local library to find out more. We are also incredibly pleased to have had the opportunity to provide training for some of our libraary staff this year so they can better support people with health needs. Staff from several libraries have been trained by local health librarians, enabling them to signpost the public to the best and most reliable health information."
Dr Virginia Pearson, Chief Officer for Communities, Public Health, Environment and Prosperity at Devon County Council said:
 "The Books on Prescription collections have been a great success in Devon over the past three years, tackling key health issues including mental health and dementia, as well as last year's series that covered the mental health challenges faced by young people. Providing access to these trusted resources through the network of libraries across the county is vital to ensuring that as well as receiving the healthcare they need, the people of Devon are able to equip themselves with the knowledge and understanding they need to live happy and independent lives."
Katie Clarke-Day, who lives with multiple long term conditions and was involved in the development of Reading Well for long term conditions, says:
"I believe that the Reading Well scheme will give people living with or caring for someone living with various long term conditions the knowledge and skills that they need to have confidence in managing their condition. Having this information easily accessible will help people to navigate the at times overwhelming world of long term conditions and the impact they have on people's lives."
Vice Chair of External Affairs at the Royal College of GPs, Professor Martin Marshall, says:
"There is enormous need for quality assured health information and advice supporting people to understand and manage the physical and wellbeing impact of living with a long term condition. Schemes such as Reading Well, available in the trusted community space of the public library, can play an important role in meeting this need and by so doing add value to the work of GPs and health services. I look forward to seeing the scheme used by GPs and the public to support the self-management of common conditions such as diabetes and heart disease."
Debbie Hicks, Creative Director at The Reading Agency and Neil MacInnes, President of the Society of Chief Librarians, says:
"The new Reading Well for long term conditions scheme has been designed to support people to self manage the physical and wellbeing symptoms of living with a long term condition.  It is quality assured and evidence based and will be available through the public library network across the country, providing a new frontline community service in an area of enormous need. SCL and The Reading Agency are delighted to be working together with health partners to deliver this important new development in the public library health offer."
The core booklist for Reading Well for long term conditions:
1.     How to Feel Better: Practical Ways to Recover Well from Illness and Injury by Frances Goodhart and Lucy Atkins (2015)
2.     Self-Management of Long-Term Health Conditions by Kate Lorig (ed.) (2014)
3.     Fighting Fatigue: A Practical Guide to Managing the Symptoms of CFS/ME by Sue Pemberton and Catherine Berry (2013)
4.     Overcoming Chronic Fatigue by Mary Burgess and Trudie Chalder (2009)
5.     Manage Your Pain by Michael Nicholas, Allan Molloy, Lee Beeston and Lois Tonkin (2011)
6.     Overcoming Chronic Pain by Frances Cole, Helen Macdonald, Catherine Carus and Hazel Howden-Leach (2010)
7.     Pain is Really Strange by Steve Haines and Sophie Standing (2017)
8.     An Introduction to Coping with Insomnia and Sleep Problems by Colin Espie (2017)
9.     Coping with the Psychological Effects of Illness: Strategies to Manage Anxiety and Depression by Fran Smith, Robert Bor and Karina Eriksen (2015)
10.  Mindfulness for Health: A Practical Guide to Relieving Pain, Reducing Stress and Restoring Wellbeing by Vidyamala Burch and Danny Penman (2013)
11.  Arthritis: A Practical Guide to Getting On With Your Life by Chris Jenner (2011)
12.  Arthritis: Exercise Your Way to Health by Paula Coates (2010)
13.  Irritable Bowel Syndrome: Answers at Your Fingertips by Udi Shmueli (2017)
14.  Irritable Bowel Syndrome: Navigating Your Way to Recovery by Megan Arroll and Christine Dancey (2015)
15.  Go Your Crohn Way: A Gutsy Guide to Living with Crohn's Disease by Kathleen Nicolls (2016)
16.  Asthma: Answers at Your Fingertips by Mark Levy, Monica Fletcher and Soren Pederson (2013)
17.  Chronic Obstructive Pulmonary Disease (COPD): the Facts by Graeme P. Currie (2009)
18.  Diabetes for Dummies by Alan L. Rubin (2011)
19.  Diabetes: The Facts by David Matthews, Niki Meston, Pam Dyson, Jenny Shaw, Laurie King and Aparna Pal (2008)
20.  Type 2 Diabetes in Adults of All Ages by Charles Fox and Anne Kilvert (2013)
21.  Heart Attack Survival Guide by Mark Greener (2012)
22.  Living with Angina by Tom Smith (2009/2017)
23.  Understanding and Dealing with Heart Disease by Keith Souter (2014)
24.  Stroke: the Facts by Richard Lindley (2017)
25.  Rebuilding Your Life After Stroke by Reg Morris, Malin Falck, Tamsin Miles, Julie Wilcox, Sam Fisher-Hicks (2017)
26.  How I Rescued My Brain: A Psychologist's Remarkable Recovery from Stroke and Trauma by David Roland (2015)
27.  The Carer's Handbook: Essential Information and Support for All Those in a Caring Role by Jane Matthews (2007)
28.  The Selfish Pig's Guide to Caring: How to Cope With the Emotional and Practical Aspects of Caring for Someone by Hugh Marriot (2009)
---