Libraries Unlimited becomes registered charity
Posted on 28 Nov 2016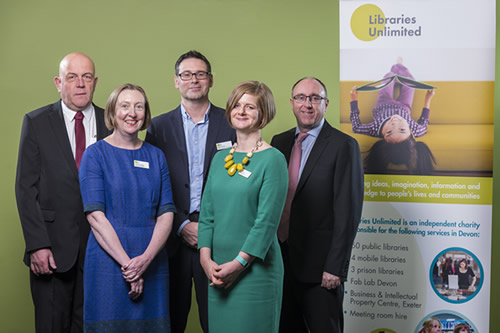 Libraries Unlimited, the independent organisation responsible for running all of Devon's library services has been granted registered charity status by the UK Charity Commission.
The organisation, which took full control of the county's libraries in April 2016, is a staff and community owned social enterprise commissioned by Devon County Council.
The newly recognised charity has ambitious plans to become a national leader in providing an innovative approach to the delivery of library services. Currently, Libraries Unlimited is responsible for the running of all 50 of Devon's libraries plus four mobile libraries and three prison libraries, as well as Fab Lab Devon and the newly launched Business & Intellectual Property Centre at Exeter Library.
In order to become a registered charity, Libraries Unlimited had to prove that its purpose is exclusively charitable and set up for public benefit. Libraries Unlimited met the criteria through the charity's objectives, which include; promoting and encouraging a love of reading, providing free access to information, guiding and supporting people to explore and connect with the wider world, offering a welcoming space to meet, socialise and enjoy new experiences and to support the health and wellbeing of individuals and local communities.
Gaining charitable status will allow Libraries Unlimited to access financial support and develop fundraising initiatives to help meet its objectives and secure the future of libraries across Devon.
The announcement comes at a pivotal time for the organisation as it has just appointed the final member of its five-strong senior management team. Phil Blay has joined the charity as Head of IT and Digital, joining Chief Executive, Ciara Eastell, Head of Service Delivery, Joanne Launder, Head of Finance and Operations, Paul Love and Head of Commercial and Innovation, Steve Turner.
The experienced and diverse team are responsible for the day-to-day running of the organisation and its services, operating under a board of trustees.
Julie Dent, Chair of Libraries Unlimited, said: "We're incredibly proud to be recognised as a registered charity and are hoping it will help us continue towards our vision of bringing ideas, imagination, information and knowledge to people's lives and communities across Devon. Since April this year we have been working hard to improve library services, developing new services and initiatives whilst running as efficiently as possible. We have so far secured £200,000 funding from Arts Council England for a research programme and will be launching several new projects over the next few months, as well as relocating several libraries to improve facilities.
She continued: "With our senior management team now complete, we are perfectly placed to start driving the charity to new heights, creating an innovative model for the delivery of library services and providing the people of Devon with the best possible library provision."