"Knowledge is power" says new South Molton Library Supervisor
Posted on 23 Aug 2018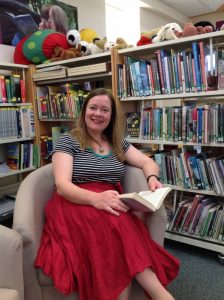 South Molton Library has recently appointed a new library supervisor from within its dedicated team. Jane Petch, has taken on the management and day to day running of the Devon Libraries site.
Jane, originally from South East London, settled just outside South Molton over 20 years ago, with her husband and two children and has always had a love of reading and passion for sharing information amongst friends, family and colleagues.
Previous to her role as Library Supervisor, Jane held a demanding Office Manager position, which involved great organisation and time management, all the skills required for supervising a thriving library. Jane has worked at the library for the past eight years on a part time basis and is a familiar face amongst regular library users and the local community.
Jane Petch, Library Supervisor at South Molton Library said: "I am over the moon to have been appointed supervisor at South Molton Library. My dream has always been to travel the country recommending good reads to people. I am privileged to be making recommendations within a lovely library today. The thing that excites me most about working at South Molton Library is being part of an innovative and forward thinking library service and being given the opportunity to come up with creative ways to engage with local audiences. I really enjoy being able to help all of our customers discover new and exciting information through books, the internet and getting people together for a chat. Knowledge is power and we all deserve to have access to it.
"My aim as the new library supervisor is to continue to grow what the library offers in our welcoming vibrant space for the whole community to enjoy"
South Molton Library is one of 50 Devon Libraries run by the charity and social enterprise Libraries Unlimited. The library is open five days a week and is located in the Amory Centre which also houses the Town Council and North Devon District Council.  South Molton Library holds a wide selection of books, audiobooks and DVDs. Regular events  including Lego Club, Bounce and Rhyme, computer and gadget help, family history, reading and writing groups and the much loved Knit and Natter group play an integral part to the library's success and vision. Jane has recently implemented the new 'Better Together' programme at the library, which aims to promote wellbeing in the community by offering a welcoming space for visitors to use to socialise with library staff and friends over a cup of tea.
Joanne Launder, Head of Service Delivery at Libraries Unlimited, said: "Jane has continually shown her strengths and passion for library services, she shares the vision of Libraries Unlimited in creating welcoming spaces and sharing the love of reading and providing access to information for everyone.  We look forward to seeing the library continue to flourish under her supervision and the hard work of her team."
For more information about Devon Libraries, visit devonlibraries.org.uk.  Follow Devon Libraries on Twitter @devonlibraries or Facebook/ Devon.Libraries