Innovative library staff member nominated for national award
Posted on 13 Oct 2021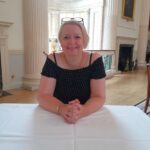 1,000 viewers now join Exeter library for Karen Huxtable's 'In Conversation' with authors.
An Exeter library staff member has been nominated for a national award for her outstanding innovation in developing author talks.
Senior Supervisor Karen Huxtable has been shortlisted in the 2022 Romantic Novelist Association (RNA) Industry Awards in the Librarian of the Year category.
Karen used the library building closures during lockdown to develop a series of online conversations with authors. They proved enormously popular, receiving over 1,000 views for each event. They are still continuing on a weekly basis and are shared with over 30 libraries across Devon and Torbay.
"I have really loved developing the 'In Conversations'," said Karen. "I enjoy finding new authors and recommending books and it is not something that I do on the frontline in my day-to-day job, but I have built relationships with publishers and writers through my book blogging, and it is fantastic to be able to share these new finds with so many people. We know from feedback they have also helped to reach people who are not able to attend in person events due to illness and caring responsibilities."
Karen has been in her current role since 2013 and with the library service in Devon since 2005.
The award category recognises the important work that libraries and staff do in supporting the romantic fiction genre and the RNA. Award nominations come from RNA members and is their way of shining a spotlight on those considered the best in the business.
Karen said: "I am flattered to receive national recognition for the 'In Conversations'. We have a wide reach with the events, and they promote Libraries Unlimited across Devon and nationally.
"I have no idea who nominated me – it was a complete surprise! And an enormous honour."
For more information go to:
romanticnovelistsassociation.org/awards/