Historic Moretonhampstead Library building gets a vital roof refit
Posted on 20 May 2022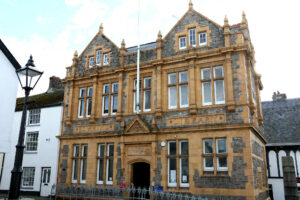 Moretonhampstead Library is currently closed for vital repair work to its roof.
The historic library building in Fore Street, which is run by Devon-based charity Libraries Unlimited, closed its doors from Tuesday 1st March.
Extensive repairs to the roof will be carried out including new tiles and lead, as well as work on the dormer windows, brickwork and pointing. Libraries Unlimited has commissioned specialist contractors to carry out the work as the building is listed Grade II. The charity has sought agreement for the improvements from Dartmoor National Park.
Libraries Unlimited Chief Executive Alex Kittow said: "Libraries Unlimited runs a network of 54 library buildings across Devon and Torbay. Some are almost brand new, while others like the Moretonhampstead Library are in much-loved historic buildings. These of course do need a little extra care to maintain them as modern libraries. Refitting the roof of this landmark building in the town centre after more than a century of use should keep it fit for purpose for many years to come."
The original Bowring Library was built in 1902 by shipping magnate Sir Thomas Bowring (1847 – 1915). It contained a reading room and an upstairs billiard room and men's club. Sir Thomas was a benefactor to many local causes in Moretonhampstead including the Bowring Prize which was a scholarship for a local child's education, and the Unitarian Chapel where he is buried.
Moretonhampstead First Assistant Denise Gately said: "We are very proud that our library continues to serve the local community after 120 years. Sir Thomas Bowring I am sure never envisaged computers and eBooks and all the many other services we now offer! But the spirit of his original vision remains – a welcoming space for the whole community to discover a love of reading and books."
"We aim to open a pop-up library on Wednesday afternoons at the Community Club, starting on Wednesday 2nd March, 3-5pm. We will be continuing our Bounce & Rhyme session as well as supplying a selection of books for customers of all ages to choose from. Do pop in and say hello".
Library customers will be welcomed back to the library in early July (additional work to the roofing is required so the opening date is still to be confirmed). As this closure has been planned, there are no book loans due to be returned to Moretonhampstead Library during this closure. Customers are encouraged to use online services to reserve, renew and browse at devonlibraries.org.uk, visit the pop-up library at the Community Club or visit the nearest libraries at Chagford, Bovey Tracey, Okehampton and Exeter.  Check our website for library opening times devonlibraries.org.uk.