Girls Aloud singer Nicola Roberts backs wellbeing programme being rolled out across Devon and Torbay
Posted on 17 Mar 2021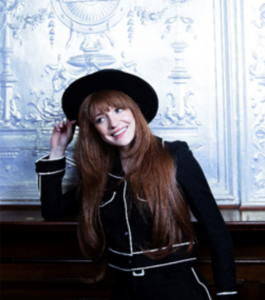 National Reading Agency 'Read Talk Share' campaign reaches out to those suffering in the wake of covid
The Girls Aloud singer and mental health campaigner Nicola Roberts has given her backing to a campaign being rolled out across Devon and Torbay Libraries.
Nicola has leant her support to the Reading Agency's 'Read, Talk, Share' campaign.
In Devon, Libraries Unlimited is developing a number of initiatives to support the campaign including the launch of the new Reading Friends group for isolated parents and carers.
Nicola Roberts is being joined by author Amanda Prowse and mental health campaigner Natasha Devon MBE as ambassadors for the campaign. The Reading Agency is hoping 'Read, Talk, Share' will play a role in combatting loneliness and promoting wellbeing through the proven power of reading during covid-19 recovery.
Devon and Torbay are amongst 100 local authority areas around the country taking part in the campaign, assisted by £3.5million from the Department for Digital, Culture, Media and Sport.
Karen Huxtable, Senior Supervisor – Development, Exeter Library said: "We believe libraries have an important a role to play in Devon and Torbay's recovery from covid-19 as they have in keeping people going through lockdown. We've been making phone calls to isolated customers for weeks, delivering books, putting groups and workshops online and allowing digitally excluded people to access our computers. As restrictions ease, we want to make sure we're there to help everyone who's struggling with the mental impact of the last year with not only books and practical support, but friendly social contact and advice."
The Reading Friends initiative, launched last month, is up and running across all 54 libraries in Devon and Torbay. Trained members of staff are having regular phone chat appointments with isolated parents and carers, and the first Zoom group session will take place on Tuesday 30th March at 1pm. While books are the focus, informal chat, support and connection is the key. Anyone who wants to join should email readingfriendsgroup@librariesunlimited.org.uk for a link to join.
Dozens of wellbeing titles are also being made available as eBooks to download from Libraries Unlimited. Twenty five new titles have recently been added to the list of books including A manual for heartache by Cathy Rentzenbrink, A mindfulness guide for the frazzled by Ruby Wax, and I had a black dog by Matthew Johnstone.
Libraries Unlimited is the charity responsible for running Devon and Torbay Libraries.