Famous Food Entrepreneurs to appear at Barnstaple and Exeter Library
Posted on 07 Jun 2017
Exeter and Barnstaple Libraries will be hosting a range of famous foodie entrepreneurs and local food companies as they live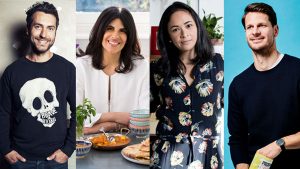 stream the British Library's Inspiring Entrepreneurs 'Brilliant Brands' event on Thursday 15th June.
As part of the British Library's Business and Intellectual Property (IP) National Network, the two Devon Libraries are inviting local business people, entrepreneurs and foodies to these exciting free events that will offer a unique insight into how four famous food companies successfully took their products from the kitchen table to the consumer market.
Guests will hear from the founders of Propercorn, Beavertown Brewery, The Spice Tailor and Cauli Rice via a live stream of the event as it happens at the British Library. Attendees will be given the opportunity to quiz the speakers through a live tweet interaction on their own personal journey and find out what, if anything, they would do differently.
Speakers will be:
Ryan Kohn – co-founder of Propercorn, the UK's fastest growing premium popcorn company, selling over three million packs of Propercorn a month
Logan Plant – founder of Beavertown Brewery, a kitchen table experiment created a brilliant brand that now exports internationally to countries in Europe, Australasia and Asia
Anjum Anand – founder of The Spice Tailor, internationally renowned TV chef, best-selling food writer and award-winning brand owner
Gem Misa – co-founder of Cauli Rice, available in nearly 3,000 UK supermarkets and with revenues of £1.5 million
The event will be chaired by award-winning journalist and broadcaster Nadine Dereza.
This is the first Inspiring Entrepreneurs event to be held at Barnstaple Library. To celebrate, local entrepreneur Monty from Monty's Caribbean Kitchen visit the Library to talk in person about his journey in taking Monty's Caribbean Kitchen from a mobile catering trailer to a popular restaurant based in the centre of Barnstaple. Monty will be joined by Carl from Boom Kitchen who, fed up with bland, gloopy 'Asian' chuck-in sauces and pastes, turned to the countless recipes gathered from his miss-spent youth lounging around in hammocks all over Asia to create some of his favourite curries, free from artificial additives and preservatives.
Exeter Library welcomes local entrepreneurs Kate Shirazi from CakeaDoodleDo and Alan Collyer from Exeter Brewery. Kate launched CakeaDoodleDoo in Exeter in 2006 and is now running a successful business with clients from across the UK. Alan Collyer, owner of Exeter Brewery, took over the local brewery in 2004 and now sells the locally made beers nationally and internationally.
The Exeter Business and IP Centre, which is located in Exeter Library and run by Libraries Unlimited, the charity which runs all of Devon's libraries, offers business owners, entrepreneurs and inventors the space and resources to develop ideas and receive professional advice.
Charlotte Collyer, Enterprise Manager at Exeter's Business and IP Centre said: "The Brilliant Brands event will see local and national food brand entrepreneurs give a personal account of how they have made their companies successful. With over 1.3 million Britons dreaming of starting their own business and 18% of those interested in food brands, this event is a rare opportunity for people to get free, real-life experiences from people who have been there and done it. Not only will we hear from the four famous brands, but we're really lucky to have representatives from some local companies who can give more of an insight into the local market.
She continued: "At the Business and Intellectual Property Centre we hold a variety of events with the sole aim of supporting business people, or aspiring business people, in realising their aims. The British Library in London provides us with a programme of activity and this event is one of many that are on offer to the people of Devon. We are thrilled to offer this event at two of our libraries and hope to be able to reach out to other communities in the not-too-distant future."
The Business and IP Centre is designed to support smaller businesses by providing free information and advice on best practice, on everything from trademarks to marketing.  The Centre follows a programme and ethos developed by the Business and Intellectual Property Centre at the British Library, London, and providing support to business owners, entrepreneurs and inventors.
The Centre provides access to a comprehensive collection of online databases and publications, practical workshops, one-to-one advice sessions and inspiring talks. The trained business champion team, working alongside industry experts, are on-hand to provide guidance and information on a range of business issues.
Details of events:
Exeter Library: Thursday 15th June, 18:30. FREE
Barnstaple Library: Thursday 15th June, 18:30. FREE