FabLab volunteer presented with Points of Light Award
Posted on 08 Mar 2017
Last week at Exeter Library, Rob Wilson MP, the Parliamentary Under Secretary for Civil Society, awarded our FabLab volunteer, Nigel FitzHugh, a Points of Light award on behalf of Prime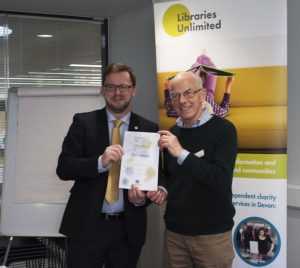 Minister, Theresa May.
Nigel was selected by the Prime Minister as an outstanding volunteer for his commitment to teaching design and technology to local inventors, artists, small businesses, entrepreneurs and students.
Nigel regularly runs workshops based at the FabLab, where he demonstrates high-tech equipment including laser cutters, 3D printers, scanners and embroidery machines. He also takes portable equipment on roadshows across the county to Devon's rural communities.
In a letter to Nigel, Prime Minister Theresa May said: "By sharing your expertise at Exeter Library's 'FabLab' and reaching out to rural communities in Devon, you are helping people of all ages gain new skills in design and technology."
Points of Light awards are given to outstanding individuals that dedicate their time to making a change in their community. Every weekday, the Prime Minister recognises an inspirational volunteer with the Daily Point of Light award.
Nigel said: "I feel a bit guilty about getting an award from the Prime Minister for doing something which I thoroughly enjoy and about which I feel passionate. It is also an activity which I share with several others.
"Bringing the knowledge and practise of modern, computerised manufacturing methods into a library space may seem strange to traditionalists, but the two are perfectly compatible. People need access to knowledge whether it is past, present or future and this award will be a recognition of the work of Fablab Devon in bringing this knowledge and a chance to use it creatively, to the communities of Exeter and Devon. The Fablab within the new Libraries Unlimited social enterprise is indeed a Point of Light and everyone should see it shining. Thank you Prime Minister."
First established in the US by President George H. W. Bush in 1990, UK Points of Light was developed in partnership with the US programme and launched in the Cabinet Room at 10 Downing Street in April 2014. Hundreds of people have since been named Points of Light by the Prime Minister, highlighting an enormous array of innovative and inspirational volunteering across Britain.
Find out more about the UK Points of Light initiative here or to find out more about services available at Exeter Library's FabLab, click here.