Exeter's Real Food Company take over Exeter Library Cafe
Posted on 25 Jul 2017
Exeter's Real Food Company have taken over the running of the popular cafe at Exeter Library, as they expand their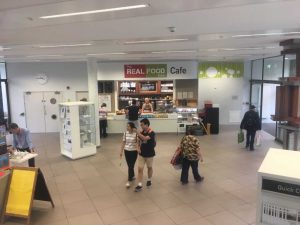 presence within the city.
The bustling Exeter Library, which has around 2,000 visitors a day, became home to the Real Food Cafe on Saturday 8th July, providing Library users and city centre shoppers with the company's well-known variety of wholesome, fresh and ethically sourced food.
To make way for the arrival of Real Food, a new kitchen area has been installed within the Library cafe to allow for a fresh food preparation area. The cafe will also provide catering for events, meeting room bookings and conferences held at the Library, offering everything from freshly prepared salads, baguettes and sandwiches to pastries and tea and coffee.
The new Real Food Cafe follows the company's recent relocation of its food store from Paris Street to Exeter Central Station, which opened on 10th July.
The popular community-owned business is dedicated to bringing local sustainably sourced food to shoppers in central Exeter, supporting the local economy and raising awareness of the social and environmental issues around food.
Ciara Eastell, Chief Executive of Libraries Unlimited, the charity responsible for running Exeter Library and all of Devon's libraries said: "We are really excited to have Real Food running the cafe here at Exeter Library. They are a perfect fit for us, we are both community owned social enterprises, with a vision and a passion for our local community and offering high-quality community focused services. Working closely with Real Food, we have the opportunity to find interesting ways to help all of us think about how we develop healthy lifestyles and consider the source of our food.
"Exeter Library has a high footfall within the city, and we hope that having an organisation such as Real Food operating within our building means that we might bring even more people to this space, and will help Real Food reach users that have never visited them before."
The Real Food Store and Cafe opened on Paris Street, Exeter, in March 2011. It is a community-owned social enterprise which was formed by 300 local people, all of whom invested funds to set it up.  It now employs 13 people and sources its produce from over 100 suppliers, over 75% of which are in Devon.
Dominic Acland from Real Food said: "After trading successfully for the last 6 years, we are excited to be taking on a new cafe operation at Exeter Library, at the same time as opening our new store at Central Station. We are bringing our core Real Food values of local sourcing, ethical provenance, quality, freshness and taste to the Library cafe.  To do so, we're installing a kitchen on site where we can make fresh food.
"We're looking forward to working closely with Libraries Unlimited to realise our shared aims around education and social impact, through events, talks and joint promotions.  As a social enterprise operating alongside a charity, this is a great opportunity to develop innovative approaches to involving people in food: where it comes from and how it's prepared and shared, so we can all lead healthier lives that cause less damage to the planet."